Wednesday - August 22, 2007
By
.(JavaScript must be enabled to view this email address)

Movies Showtimes
Share

El Cantante
Nancy Ortiz
Executive Director of the Hispanic Center of Hawaii
Radio Host of the Alma Latina Show and Owner of Alma Latina Productions
As Told To Melissa Moniz
Where and with whom did you see the movie?
Dole Cannery Regal Theaters. I went twice with my husband John, and again with my friends Eddie and Cynthia of the Son Caribe Salsa Band.
Overall what did you think?
I think that the movie itself is for all of Hector Lavoe's fans and for those who relate to the sounds of salsa.The story is a typical musician fare - rags to riches, lost in drugs, fame. But his life struggle and musical legacy are captured in this movie, giving the world a glimpse of a legend whose music lives on.
How would you rate the acting?
I thought that Marc Anthony was the perfect person to portray Hector Lavoe from the singing to the depressing drug addiction.There were times in the movie that it seemed like Marc Anthony and Hector Lavoe were one.Marc Anthony's performance is engaging and memorable giving true Lavoe fans something to smile about. J-Lo (Jennifer Lopez) does a great job of telling the story and acting as Hector's wife, Puchi. So yes, I would rate the acting a 10 for Marc Anthony and the overall acting about an 8.
Did you go in with any expectations, and if so, did it hit or miss your expectations?
I did, and yes and no. I like the music and songs, however, I felt they could have touched more on his life and less on his drug addiction. Sometimes the flashbacks were annoying.
Did the movie have a deeper meaning or message?
That Hector Lavoe had it all as far as a gifted musician, but lost it all to drugs and later got infected with AIDS (from an infected needle) and dies.Which means you can't mix fame with drugs. You have choices - get clean or die.
Was there anything you disliked about the movie?
Yes, too much on the drugs. I would have liked to see more of his life and great music.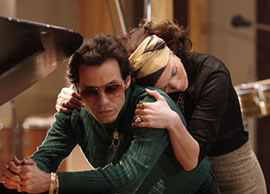 Did you have a favorite scene?
Yes,when Willie Colon,who is played by John Ortiz, got fed up with Hector arriving late to all of the gigs due to his drug problem,and finally he had it and told Hector this was it. He tells him,"I'm gone, no more excuses, you can have the band.I will be there to support you,but I can't handle this anymore and can't share the stage with you,I take my music seriously." Even with that Willie continued to produce his albums and wrote some of the songs for Hector. He was always there when Hector needed someone. To me that shows a true friend or amigo. Even though it was difficult to put up with his habits,he still supported him and was there for Hector in good and bad times.
Would you see the movie again?
Yes,I already saw it twice,but will be going again with my daughter Gena.
On a four star rating, with four being the highest, what would you rate the film?
****
Do you have a favorite movie snack?
Raisinettes.
What's your favorite movie of all time?
I like musicals,movies that have dance and good movie documentaries like Shall We Dance and Havana Nights.Both those movies were great,butTake the Lead was actually one the of best because it had a little of everything. I saw Inside Man because I like Denzel Washington. The best was Passion of the Christ.
What's new?
Besides my weekly Hispanic radio show on KWAI/K-108 every Sunday,1 to 4 p.m. and running the Hispanic Center of Hawaii, I run three different salsa/Latin venues. Sundays for the month of August you can catch "Salsa Summer X -Plosion" at Ocean Club in Restaurant Row.I still run my "Zona Latina"night at Panama Hatties going on three years every Friday night. I'm getting ready to do "Salsa After Hours" at Cirque Hawaii on Thursdays, effective Sept. 6. I'm also working on some other big Hispanic/salsa events coming up in 2008. Plus being a wife, mother and grandmother.
Most Recent Comment(s):