Wednesday - October 18, 2006
By
.(JavaScript must be enabled to view this email address)

Movies Showtimes
Share

Employee Of The Month
Signe Godfrey
President, Olsten Staffing
As Told To Melissa Moniz
Where and with whom did you see the movie?
I saw the movie with my husband Roger and a couple of friends at Ward Theatres.
Overall what did you think of the movie?
We loved the music. It had a lot of diversity and it was kind of funny. It was a comedy act actually. A tongue and cheek comedy act, that's how I would put it. In other words you had to kind of see the humor in it.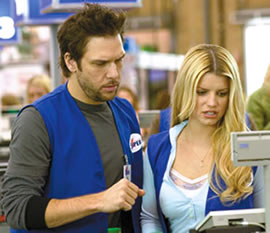 Did you enjoy it or was is not your type of movie?
It wasn't my type of movie, but we enjoyed it.
Was there a scene that stood out and you particularly liked?
What really stood out for me was the injuries. They kept getting hurt. Like they would be walking around and some piece of lumber would be passing by and they would walk into it. So those were the kind of scenes that stood out.And Jessica Simpson did not act. There was no acting there.
So you would say that Jessica Simpson's acting was poor?
When I see her talking to the press and being interviewed, basically her personality in the movie didn't change. It was the same. But I was reading that when she was doing the movie that she was going through her divorce, so she seemed pretty quiet.
Was there a lot of skin revealed by Jessica Simpson?
Yeah, and I thought that was overdone because she was a cashier and it was pretty low cut for a cashier. Especially compared to the other cashiers. She was the only one who had a low cut. If all the others were low cut too then that would be a different story, but everyone else was higher cut than she was.
Was the storyline realistic?
Actually, one of my guests said that they did find that situation happening in a company here. So I guess it is realistic.
Did you have a favorite character?
We liked the guy who was the box boy, Zack.
What would you say was the worst aspect of the movie?
I think the storyline was OK. He was just a person who was floating in life and didn't have any ambition, but eventually he got some advice from his friends and they tell him that he needs to start doing things for himself and not just for others. And so he finally figured that out and his life got better.And so the storyline was pretty decent, but the worst aspect was the way that the bad guys treated the good guys - it was really a put down. But the good guys got to win.
Is there a movie that you've seen that you could compare this to?
No, I can't say it compares to another movie that I've seen before. But the comedy was pretty decent and it was funny. I mean we laughed a lot.
In a four star rating, with four being the highest, what would you rate it?
About two stars.
What's your favorite movie snack?
Buttered popcorn and Diet Pepsi.
What's your favorite movie of all time?
Gone with the Wind. I know it's so old, but that's my favorite movie. It still generates that same kind of feeling every time I see it.
How often do you go to the movies?
We haven't been going as much as we used to.We used to go about every week, but we stopped because we got too busy.
Who is your favorite actress?
My favorite actress is Calista Flockhart. She's a really good actress.
What's new?
Well, you know, if any reader is looking for a job we have lots of jobs available - some of those jobs are paying really well. We're always looking for people, especially people with accounting backgrounds. What's new is we have a lot of full-time jobs available. Before it was more temporary, but now we have more people wanting to hire directly. We're searching for people all the time and with unemployment being so low it's becoming an urgent need.
Next week: a new movie, a new celebrity
Most Recent Comment(s):