Wednesday - December 05, 2007

Movies Showtimes
Share
Where and with whom did you see the movie?
I went to Pearl Highlands Theatres. I went with my friend Gina, and I've known her since the second grade.
Overall, what did you think?
I thought it was awesome. I totally want to see it again.
As a real life princess, how "real" was this movie?
I don't want to reveal too much, but they did a really good job at transitioning between a fantasy world and the real world. Both the Princess (Amy Adams) and the Prince (James Marsden) were learning about dates (as in two people going out together). That was one of my favorite parts.
Did you relate to any of her struggles or situations as a princess in the modern world?
At first, just her encountering normal real people. Unfortunately for her, she had to encounter a bum in one of the first scenes; he ends up stealing her tiara. She kind of struggles with different emotions. She falls in love with Patrick Dempsey's character. There was a big turning point where she really did feel angry at one point - it was very moving but also funny at the same time. She is kind of laughing and saying "ha ha, I'm angry."
How about the acting? Anyone familiar that people would want to see?
It was very good, especially the Princess. This is supposed to be her (Amy Adams') break-through movie. She was awesome.We get to see that's how she would be as a cartoon character. Patrick Dempsey, everybody knows he's "Dr. McDreamy" on Grey's Anatomy. Also, James Marsden is in this movie, and he played "Cyclops" in the X-Men movies.
What about the animation - good, bad or in-between?
There was a lot throughout. I majored in animation at UH, so I was really, really impressed with how they had the 3D animation with real people. There was one part where the queen was talking to the character Nathaniel from a boiling soup bowl.She pulled an apple from the soup pot and she was cartoon, but the apple was real. The beginning was all 2D animation. There was a 3D animated dragon at the end - she was climbing up a building but she was holding Patrick Dempsey at the same time. All the animals are animated.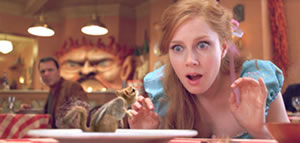 This movie is described as "comedy, kids/family, scifi/fantasy, animation." Did you see elements of all these categories?
I would say it's more of a romantic comedy, definitely aimed toward kids. I would-n't compare it to a movie like Shallow Hal, kids wouldn't understand the jokes in that. I really like movies that can make you cry at one point, make you laugh at one point and then surprise you.This movie has it all. There are even parts where, believe it or not, you get grossed out. In the beginning, it's
a very stereotypical fairy tale scene where the princess sings, and all the forest animals come to her and help her get dressed. She does it in the real world and all the cockroaches, rats and bugs come out of the woodwork to help her.
To whom would you recommend this movie?
Everybody should go.
On a scale of one to four stars, with four being highest, what would you rate this movie?
**** . I love Disney; it really brought back a lot of memories for me personally.
Favorite scene/character?
There are so many.I liked all the characters.You really see the characters grow - the princess, the prince, they all become very different people at the end in a good way, even though the movie is not an epic like two-plus hours long.
Was there an overall message or theme? Did you learn anything?
It's very personal for me. Patrick Dempsey's character really reminds me of myself. I'm always concerned about money and success, a more practical mind-set. He's telling the princess this kind of love fairy tale, love story-type doesn't exist, but she teaches him that happily ever after is not a fantasy, it's real, it can happen. You can't be wrapped up in things like that. Everything else is so small. Love is all that really matters in the end.
Favorite movie snack?
Dibs.
What's new?
I'm still studying for the LSAT. It's not a pass or fail kind of test, if you get a higher score it helps your chances of getting into a really good law school. I graduated from UH this past May. I majored in animation, like 3D modeling (that's actually creating the character, making it walk or jump), lip syncing - for example, they had the animated dragon at the end of the movie and she was talking. Also, I learned about rigging of the characters. I want to go to maybe KU or NYU, but we'll see.
Most Recent Comment(s):