Wednesday - February 07, 2007
By
.(JavaScript must be enabled to view this email address)

Movies Showtimes
Share

Epic Movie
Bo Irvine
Comedian, Emcee
As Told To Melissa Moniz
Where and with whom did you see the movie?
I went to the theatres in Windward Mall, and I went with my son.
Overall what did you think of the movie?
Very, very funny. Silly, funny.
Did your son enjoy the movie?
Yeah, he's 17 and he enjoyed it. The bad part is there are some really wayout scenes where they inferred some really crazy stuff and he laughed.
They had some stuff like hairy beaver. And he laughed. So I was like, did you laugh because hairy beaver is cute, or do you know what they are saying?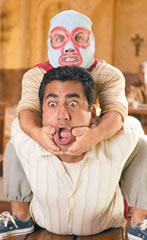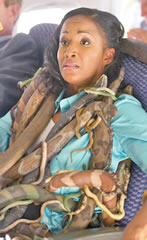 What was your favorite scene?
The best scene was when they spoofed the show on MTV called Cribs. There's a character who is like half man, half goat. He shows them around and it's really funny. But it spoofed like every show.
Do you think you really need to be in tune with pop culture in order to get a lot of the jokes?
Yeah, but they covered so many things and so rapidly that if you didn't see a show you weren't left out in the cold. You would have gotten something that they were mentioning. But in general I would say you would have to understand what's going on. If you saw the Pirates of the Caribbean they spoofed that a lot. Da Vinci Code, they spoofed that a lot, Willy Wonka.
How would you say this movie compares to other spoof-type movies?
I would say it's better. Scary Movie was good, but maybe because it's fresh in my mind, but I really liked it. Epic reminded me about a lot of the Mel Brooks movies, like Young Frankenstein. I'm a big Mel Brooks fan, and so I like movies like this. If you're into comedy and into thinking comedy, then this one is really good.
How would you rate the acting?
I gotta say that on a scale from 1 to 10 that it was probably an 8. However, because they were spoofing, it was hard to tell.
Being a comedian yourself and understanding the process of writing jokes, did it look like they put a lot of work into the jokes?
Oh, yes, they did. Yes, yes. It was funny. Maybe because I'm a comedian that I found myself laughing at spots that others didn't because I saw the inferred humor.
Is this a movie that you would see again?
Yes, I would see it again. Yes.
In a four star rating, with four being the highest, what would you rate it?
I'd give it three and 1/2 stars.
What's your favorite movie snack?
Popcorn.
What's your favorite comedic movie?
The History of the World, Part 1 by Mel Brooks. It's a spoof on everything. It goes through the times from the beginning of man to the Roman times to now.
Who's your favorite actor or actress?
I like them all, but I would say Sean Connery.
What's new?
Well, there is something new going on at Sharkey's Comedy Club. It's now open Thursday, Friday and Saturday. We have improv on Thursday nights. I'm there most weekends, unless I'm on the Mainland traveling. But the new thing is that Sharkey's is now open on Fridays.
Next week: a new movie, a new celebrity
Most Recent Comment(s):