Wednesday - December 09, 2009

Movies Showtimes
Share

Gina & Rann Watumull
Television/Movie Producers
Where and with whom did you see the film?
Gina: We saw it at Consolidated Theatres Kahala with our 7-year-old daughter.
Overall, what did you think?
Rann: We really enjoyed the experience.It's not your average animated movie.It's just different.
Gina: It was great to see our daughter's reaction as well,especially because she's so used to a different genre of animation.
On a scale of one to four stars,what would you rate this movie?
Gina: Overall,I would say ★★★ because it was very witty and, interestingly enough, the stop-motion animation (frame-by-frame) is really old-school but very charming and whimsical,a lot like the old Rudolph the Red-Nosed Reindeer movies.
Rann: Yeah. There is some 2-D animation mixed in with it,but most of it is stop-motion. It was great though.
Speaking of, how was the cinematography?
Gina: You can very much tell that it's stop-motion,because that's the hallmark of it with the jerky motions.It's very old-school,but I think that just adds to its charm.
Rann: Plus it costs a fraction of what the Disney movies cost to do!
How was the acting?
Rann: George Clooney carries this movie as the voice of Mr. Fox.
Gina: Yeah,but then Meryl Streep (Mrs.Fox), well, I mean she's a phenomenal actress, but I wouldn't have known it was her voicing that character without the end credits.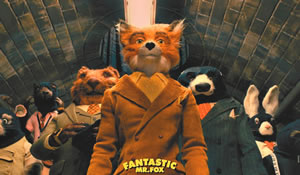 And the soundtrack? Did it contribute significantly to the film?
Rann: (Laughs) Of course, being my age, when it opened up with Davy Crockett and they were listening to it on a phonograph, it just made me laugh and reminded me of my childhood.And then again, some of it was kind of edgy, newer music too.
Did you ever read the book by Roald Dahl?
Gina: I wasn't previously familiar with his work because I didn't read the book,but I was definitely pleasantly surprised.
What was one of your favorite scenes and why?
Gina: I think the funniest scene in the whole movie is a cameo scene voiced by Owen Wilson, and just how he explains this game in the film is hilarious. It's a small role, but hysterical.
Rann: He's explaining "Whack Bat," but it's so convoluted and complicated it can't be figured out. It's hilarious.
To whom would you recommend this movie?
Gina: I would recommend this film to anyone who is a big fan of Wes Anderson animation.I'd also recommend this to die-hard fans of George Clooney or those who like Burl Ives' music. It's just that if you're looking to go to an animated film that is typical of what has been coming out lately, it might not appeal.
Rann: Also,if you like art house movies,this is the kind of film you'll love.It's nice to have such a difference. It's not your run-of-the-mill type of movie.
Did Fantastic Mr. Fox remind you of any other work of film?
Gina: It definitely reminds me of the time period when stop-motion films like those with Rudolph and Burl Ives'music and others were so popular. It really takes you back.
Speaking of other films, what are you two up to?
Rann: We're putting the finishing touches on our movie, You May Not Kiss The Bride, and we're in the final stages of the visual effects.
Gina: If you're a fan of Rob Schneider, this is a must-see. It's a romantic comedy adventure and will be out in 2010.We are very much in animation as well,and we're working on three of those: Ape Escape on Nick Toons; Guardians of the Power Masks,a children's animated series for tweens that's currently in production; and Action Dad.We just finished the pilot on that and it's done really well so far. Just trying to stay busy!
Most Recent Comment(s):