Wednesday - May 11, 2011
By
.(JavaScript must be enabled to view this email address)

Movies Showtimes
Share

J.P. Kennedy
Singer/Guitarist/
Founder of local band The Green
Overall, what did you think?
Overall I thought the movie was dope! Being on the road, we don't get a chance to see many brand new movies. So, I smashed a huge bag of popcorn and scored a recliner seat in a packed theater in Anaheim on a night off during our tour.
On a scale of one to four stars, how would you rate this film?
I would give Fast Five ★★★1/2. It wasn't the best movie I have ever seen, but it was very good. There wasn't anything I didn't like about the film. It flowed nicely and had a perfect balance of elements: action, more action, love, suspense and, of course, even more action.
Was the message/theme of the film clear?
Based on the film, I feel like the message was clear: Vin Diesel is still The Man.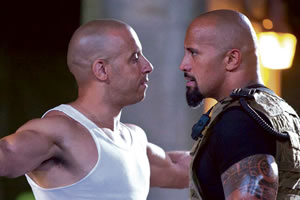 Did you identify with any of the characters?
I think I am like Vin Diesel, and his character Dominic Toretto.
Did it remind you of any other work in film?
The way the movie develops reminds me of Ocean's 11. A group of guys comes together and collaborates to take down an empire.
To whom would you recommend this movie?
I recommend this movie to everyone who enjoys listening to The Green. So, pretty much everyone.
Would you buy this movie when it comes out on DVD?
I would definitely add Fast Five to the DVD collection. The stunts are mean!
On a different note, what's new with you?
What's new with me? I am on the last leg of a nine-week U.S./Canada tour that ended May 5 with a show with a band called SOJA in San Luis Obispo, Calif.
Also, The Green is doing its first show in Hawaii in more than two months. It's gonna be Friday, May 13, at a club called SOHO in downtown Honolulu. We will be playing a long set, including songs from our new album. Make sure to get your pre-sale tickets at thegreen808.com!
Editor's note: The Green was nominated for three Na Hoku Hanohano Awards last month, including "Most Promising Artist(s)" and "Reggae Album of the Year." The ceremony will be held May 29 at the Hawaii Convention Center's Kalakaua Ballroom.
For more information or to purchase tickets, call 593-9424.
Most Recent Comment(s):