Wednesday - April 15, 2009
By Kerry Miller

Movies Showtimes
Share

Michael Kitchens
Chairman, Oahu Motorsports Advisory Council
as told to Kerry Miller
Where and with whom did you see the movie?
I saw it at Dole Cannery and I my nephews and niece, Chris Agonoi, Krizielle Agonoi and Jomar Gapusan.
Overall, what did you think?
I was surprised, I actually enjoyed it. It was more of an entertainment/action flick. The previous movies were based around driving or drag racing.This was more of an homage to the first movie.
What about the acting? Did anyone stand out?
I think that Vin Diesel, he's always been known as more of tough-guy character, but with this movie you can actually see the emotion in him.
In some scenes they played more to that side of him. His character's girlfriend passed on in the movie - he's all about revenge, getting back at these people, but then he found out one of the reasons she got killed was because of him. It was actually pretty good.
Did all the actors from the original Fast & Furious portray the same roles in this remake?
Yeah, they did. It was a recurring cast with a couple new people.You should see the first one to get this one.Without seeing that, the relationships and things probably fall a little flat.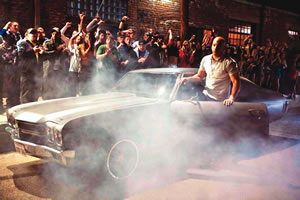 Was this remake of the first Fast & Furious similar to the original or different from it?
One of the things I've always had a problem with in Fast and Furious is they make it look like criminals, the people in the racing scenes. In this one, the story made sense. It was more about the characters and their own personal dealings than actually about the cars themselves. The cars were more like visual scenery.
How accurate is the movie as far as depicting the world of drifting and racing, in your opinion?
Not even close. It was all like make-believe. They did a good job displaying the muscle cars and huge V-8s and all that. Each character had their own type of car. Even some of the racing was computer-generated. It wasn't very realistic. That said, some of the action scenes were simply incredible and original.
What was one of your favorite scenes or characters?
I'd have to say Vin Diesel is always popular just the way he carries himself, like with the Chronicles of Riddick. He's probably the man.
On a scale of one to four stars, what would you rate this movie?
LIke I said, I've always had a grudge against these movies, but I was really impressed. I think I'd give it ★★★★.
To whom would you recommend this movie?
Definitely the young market, someone who's interested and enjoys entertainment and action, or someone who's just looking for a good, fun popcorn movie.
What's new?
I'm chairman of the Oahu Motorsports Advisory Council. We're making steady progress in building a new race track out at Kalaeloa Race Way Park. If you're interested in racing, check our website at www.kalaeloaracewaypark.com.
Most Recent Comment(s):