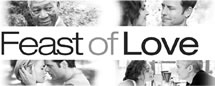 Wednesday - October 17, 2007

Movies Showtimes
Share

Feast of Love
Amy Agar
Honolulu Coordinator, PreDating
As Told To Melissa Moniz
Where and with whom did you see the movie?
I saw it at Kapolei with my friend, Deluxxe.
Overall what did you think?
I thought it was very good. I thought it was a really good movie.
Did you have a favorite scene?
No, I didn't really have a favorite scene. It wasn't that kind of movie, actually. It just kind of flowed.There was no big, pivotal moment. It just told the story.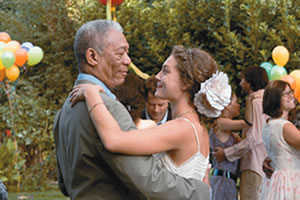 Did you go in with any expectations and if so, did it meet those expectations?
I really didn't have any expectations because, honestly, I had never heard of the movie and I had never even seen a preview for it. But when I was looking it up online to find out what time it was playing and saw that it was starring Morgan Freeman and Greg Kinnear, I thought, how can you go wrong? I knew it was going to be good as soon as I saw they were in it.
Is it a movie that you would see again?
I would see it again, but I wouldn't go to the theater to see it again. It's something that once it comes out on DVD I would watch it again.
Was there a character/actor that stood out?
Definitely Morgan Freeman and Greg Kinnear. Both of their characters were really strong and well-played.
Did you think the plot/storyline was realistic?
Definitely, because it was sort of just following the lives of normal people.
What did you find most interesting about the storyline?
The Greg Kinnear character is this super-nice guy who gets trampled on by women. And that was kind of interesting because it was a role reversal. Usually in movies women are the victims and getting their hearts broken. But he's the hopeless romantic and keeps getting his heart broken, so that was pretty interesting.
Is this a good date movie?
If you've been dating a long time because there's a lot of sex scenes and nudity. I'm no prude, but a lot of it was just not necessary. I really didn't get that part of the movie. But we're talking full frontal nudity. I wouldn't want to see that on a first date.
In a four star rating, with four being the highest, what would you rate it?
**1/2, but I'm pretty critical about films.
What's your favorite movie snack?
Popcorn and Raisinettes mixed together.
What is the ultimate date movie?
I like Grease. I was too young to see Grease on a date, but it's such a great, fun, happy movie.
Who's your favorite actor/actress?
Talent-wise, Phillip Seymour Hoffman is one of my favorite actors. I just love everything he does - I think he's absolutely brilliant. Actress? I just love Sarah Jessica Parker, but more because I want to be friends with her. She's very talented too.
What's new?
We have all our our events planned out right now.We have an event once a month and we're always looking for new venues to hold them at to keep them interesting.The next one is Oct. 20 at Du Vin. And in December we're going to be doing a very special speed dating because we're going to be doing it for Toys for Tots. So anyone who comes to the speed-dating event and brings a toy will get a gift for themselves as well. It's great because we get to do good and everyone gets to have fun. It will be a really special event.There's a full listing of upcoming events at www.cupid.com
Next week: a new movie, a new celebrity
Most Recent Comment(s):