Wednesday - March 01, 2006

Movies Showtimes
Share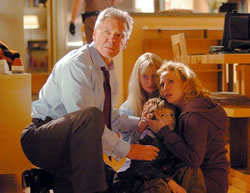 Where and with whom did you see the movie?
We went to Consolidated Theatres by Ward Centre.
Overall did you both like the movie, and why?
We felt the plot was a little weak, but we got caught up in it because we have kids of our own and we could relate with his (Harrison Ford's) fear. Harrison Ford plays a successful head computer security specialist of a bank, and he must literally beat his own security system and rob the bank to save his family from kidnappers. It was thrilling at times and kept us curious as to how they were going beat the criminal's game. You can't help but put yourself in their position as parents.
Favorite scene(s)?
Without ruining the conclusion, our favorite scenes are when the family retaliates and fights back against the kidnappers. The best part is at the end when Ford goes up against the crime leader, Paul Bettany.
Did you have a favorite character?
We enjoyed Harrison Ford's secretary the most. She was funny.She was witty and she said some remarks to Harrison that were unpredicted.The movie was predictable, she was unpredictable.
How would you both rate the acting?
If you like Harrison Ford,you will like this movie. We've seen much more exciting films that have almost similar themes, like Ransom with Mel Gibson and Collateral Damage with Arnold Schwarzenegger. Harrison Ford was good, but not great.
What were the best/worst aspects of the movie? Why?
The best part of the movie is that we can make a four-course dinner out of popcorn,mochi crunch, hot dogs and li hing mangoes.We love movies, so this one was not disappointing. It was entertaining.
The worst part of the movie was the criminals - the bad guys were weak,lame and geeky. We like to see our villains mean, brutal, violent, with tempers and anger-management problems. We felt the kidnappers were just lukewarm.
Was there a particular message it tried to get across?
To us,the movie was trying to illustrate today's technology and how criminals can now get anything through hacking into computers - it's about the know-how of stealing through technology.
To whom would you recommend this film?
To parents.
In a four star rating, with four being the highest, what would you both rate this film?
Two Stars
What is your favorite movie?
Braveheart and Gladiator for both of us.
What genre of movies do you like?
We love epics, action, martial arts and we love scary movies, so do our (three teenage) kids.
Who is your favorite movie buddy?
We both love going to the movies together.It's our most enjoyable outlet from business and household chores.
How often do you go to the movies?
Three times a month. We can't make it every week.
Do you have a favorite actor/actress?
Mel Gibson and Halle Berry for me.Gloria loves Brad Pitt and Angelina Jolie.
What's new with you two?
We're producing a fund-raising concert at the Waikiki Shell for the Polynesian Voyaging Society on July 8, to celebrate the 30th anniversary of the Hokule'a; our next Make Me Laugh comedy concert; a dance extravaganza with Yvonne Elliman and Carole Kai; a new Greg Hammer concert show at Dave & Busters in March; The Krush at the Esprit - all in addition to our regular projects. We also make time to enjoy our new granddaughter, Ashlee, who is now 18 months old. She is our first grandchild.
Next week: a new movie, a new celebrity
Most Recent Comment(s):