Wednesday - October 15, 2008
By Kerry Miller

Movies Showtimes
Share

Suzanne Watanabe
Director of Development for Hawaii Opera Theatre
As told to Kerry Miller
Where and with whom did you see the movie?
I watched it at Dole Cannery with my boyfriend, Gavin.
Overall, what did you think?
It was OK. I think a night at the opera would have been much more exciting.
This movie is based on a true story. What was that story?
In a nutshell it was about the little guy taking on the corporate giant.At the end you find out he had come up with a different pattern for an intermittent windshield wiper.The old windshield wiper constantly went back and forth.
What about the acting, did anyone stand out? Greg Kinnear?
I'd say Greg Kinnear carried the show. He was pretty much the main character.
Did the movie send out a lasting message? if so, what was it?
It was kind of that David and Goliath story for him. He just wanted to get his message out there. I guess it's never give up hope or believe in your dreams. In this case, going against a big company, he represented himself against Ford - that's really huge.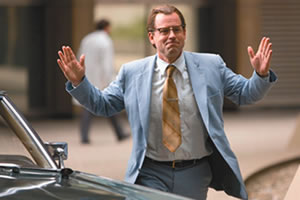 On a scale of one to four stars, what would you rate this movie?
★★ 1/2.
To whom would you recommend this movie?
I'd say anybody that can appreciate the 1960s and '70s. It was kind of nostalgic.
Favorite movie snack?
Red Vines.
What's new?
We've got season subscriptions available for purchase now,a subscription is a package for all three operas. Manon Lescaut is Jan. 30, Feb. 1 and 3, 2009. It's a Puccini. The second is Mozart's Abduction from the Seraglio. That's Feb. 13, 15 and 17. Our final production is Bizet's Carmen. That's Feb. 27 and March 1 and 3. For a season subscription the cost ranges between $81 to $333, if you want to buy a single ticket to an opera, those go on sale Oct. 20, and the cost ranges between $29 and $129. If people are interested they can call the HOT Box Office at 596-7858 or visit www.hawaiiopera.org.
Most Recent Comment(s):