Wednesday - November 02, 2011
By
.(JavaScript must be enabled to view this email address)

Movies Showtimes
Share

Sky Fung
Assistant Director Dancers Unlimited
Where and with whom did you see the movie?
I saw it at Mililani Theatres, and I saw it with the director and former dancer from my company, Linda Kuo (Dancers Unlimited) and Jesse Ohera-Aweau, another member of Dancers Unlimited.
Overall, what did you think?
It was all right. I mean, there wasn't that much dancing, and the lead guy, I'm not sure if they were really trying to imitate Kevin Bacon, but his dancing didn't fit in with the rest of the movie. But he was on point trying to look like Kevin Bacon. There wasn't that much dancing in it at all.
I personally think that it's good that they spent more money on the acting than they did on the dancing. But there were only four dance scenes, two in which they actually did legit stuff. It was very simple stuff, nothing very fantabulous. But I think that's going to the original Footloose, there's only one major dance scene that was supposed to be "wow," and that was Kevin Bacon's solo.
But in this movie they didn't do a very good job with that solo, I think.
On a scale of one to four stars, what would you rate this film?
★★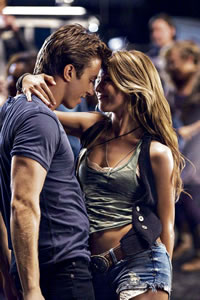 Without giving away the ending, what was one of your favorite scenes?
I would say a favorite character. It was the main character's best friend (the guy who is his right-hand man) He I think that was my favorite scene how he learns to dance from the lead guy. He can't dance, so every time they go out he'd just stand on the side, and he's really hillbilly and has a very Southern accent but a good kid, a little dorky but a good kid kind of thing.
Did it remind of you any other work in film?
No, not really, I think it was just trying to imitate the original.
Did you identify with any of the characters?
Yeah, sort of. The only character who you could get in his head and feel that he's a real person is the lead. That you can relate to.
Who would you recommend this movie to?
I would say young kids. It was kind of cheesy. But maybe preteens or older moms.
What's your favorite movie snack?
Well, it would be pickles, but you can't get it there. They don't sell Twizzlers there, so Red Vines. They were a good substitute.
On a different note, what's new with you?
I help out with Dancers Unlimited. I'm doing National Dance Week, and I run their studio for them. But I'm not really dancing in the company anymore because I'm trying to finish school, getting a degree in dance research at the University of Hawaii at Manoa. I plan events and manage workshops, and I find people to teach the classes.
National Dance Week is probably the biggest thing I've been organizing. We have master teachers flying in to Hawaii for the event.
Most Recent Comment(s):