Wednesday - April 30, 2008

Movies Showtimes
Share

Giselle Pindea
Model, Personal Trainer
As Told To Kerry Miller
Where and with whom did you see the movie?
I saw it at Ward Theaters with a few of my friends - Brigitte, Adam, Robert, Kyle and Heidi.
Overall, what did you think?
It was hilarious.
You were a part of the movie's production, having had an extra role.What was it like to actually see it?
You know, whenever you see different scenes of Hawaii on the screen you're like 'Wow! I live here.' It was really cool to see the different scenes that I was a a part of. It was really quick and toward the second half of the movie. It was cool to see how it played out. It was mostly filmed at Turtle Bay.
What was your role like?
I was in a couple of scenes. In one particular scene, which was a wedding scene, I was a wedding guest. I was in a couple of other scenes filmed at the Turtle Bay swimming pool and jacuzzi. The fist time I saw the movie - it was an advanced screening last month - I remembered the scenes that I filmed and I told my friends 'This was the scene I was in.' I was looking, trying to scan the screen. One of my friends was like 'There you are.' When I saw it for this MidWeek review,I knew exactly when and where I was going to be.
It was a lot of fun. I've done extra work before for film and some commericals and stuff out here. I part-time model, and my full-time job is as a personal trainer.
Did you get to meet any of the movie's stars?
When I was on the set, for the scenes we filmed in the swimming pool,Jason Segal was there. He was really nice. I didn't get to meet any of the other stars.
What about the acting? Did anyone stand out?
We were talking about this after the movie, about how overall everybody was really good, really genuine, so you could totally relate to the actors. Jason Segel was really good.The British rock star was really funny. The girls Mila Kunis and Kristen Bell were really good. Paul Rudd, he's the surf instructor, he's really funny.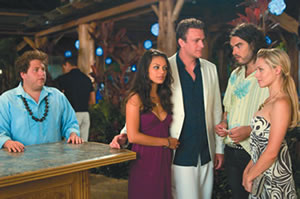 On a scale of one to four stars, what would you rate this movie?
I would give it ★★★★.It was really entertaining. I've seen it twice and both times we were cracking up.The guys and the girls were laughing.The whole movie was lighthearted and entertaining, because the overall story is dealing with a break up and everybody was able to relate.
Who would you recommend this movie to?
It's rated R so I would probably recommend it for the 18-andover crowd. Anyone, really, guys and girls would equally enjoy it. It's fun to see it with group of friends.
What's your favorite type of movie to watch?
I usually like action-type movies or comedies.
How often do you go to the movies?
I go a couple of times a month.We try to go every other week.
Favorite movie snack?
Popcorn, no butter.
What's new?
I will be traveling to Thailand for modeling in June. I just ran the Honolulu Marathon. I run races a lot. It's my own personal training. My last one was the Straub Kapiolani Women's 10K. I'll be training for a half marathon pretty soon. I just did extra work for LOST. We were part of the background, my friend Jessica and I.That was really cool, a lot of the main stars were there.
Most Recent Comment(s):