Wednesday - November 21, 2007
By Kerry Miller

Movies Showtimes
Share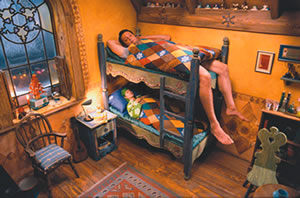 Where and with whom did you see the movie?
I saw it in Portland, Ore., at Pioneer Place Theaters with my husband, Josh.
Overall, what did you think?
It was very colorful, and I went in not expecting very much. There were parts where I was surprised. I liked it a little more than I thought I would.
As far as good Christmas movies go, how does this one compare? Is it similar at all to The Santa Clause with Tim Allen or Elf with Will Ferrell?
I didn't see The Santa Clause. I did see Elf. I actually really liked Elf -
the goofiness of Will Ferrell. (Fred Claus) never quite made it, they couldn't decide - they kind of waffled between those (the two other movies) without taking one side or another. It was like they were like "do we want a sweet and poignant Christmas movie or one more for adults?"
The story is about two brothers who are opposites, one doesn't always measure up to the other.What is their relationship like, and how does it change throughout the movie?
It starts off when Santa Claus (Paul Giamatti) is born. What throws you is that Vince Vaughn is older brother, Fred Claus.
Paul Giamatti is the younger. The story is kind of almost brotherly. Paul Giamatti's character is so good, and with Vince Vaughn, it's often more like "why can't you be more like your brother?"Then, there's a time forward. (Vince Vaughn) he's a repo guy in Chicago, he's a loser, and of course Paul Giamatti becomes Santa Claus.
Is the change in their relationship a good kind of "holiday message" that we should all get along with our family members?
(Their relationship) does change, it's almost like you can predict the change, you almost know what the turning point is going to be.That's the thing (for me) coming from a big family. Family makes you crazy, but really it doesn't matter because regardless of what happened you always go back to your family. That love is so over-reaching.
You're a storyteller. Was this a good story?
You follow the story , you're interested in the story. It's easy to follow. You are interested to see what's going to happen to these two, how are they going to break out of these roles their family has assigned to them. You know that Vince Vaughn (Fred Claus) is going to change, he just can't keep going the same way he is going.
How was the acting - Vince Vaughn, Paul Giamatti? Did you buy them as the "Claus" brothers?
This movie has a hard-core group of actors like Kathy Bates, Paul Giamatti, Kevin Spacey, Rachel Weisz. With what they're given, they do a great job. Vince Vaughn, it seems like he gets loud and faster talking with every movie.
How was the humor, and at whom was it directed, children or adults?
It's a little bit of both. I've got really small kids, I would take them. I love old Technicolor movies, and have rented movies just because they were (in Technicolor). You're sort of blown away by how colorful and full the scenes are. It's fun to watch. It's like being in a gigantic toy store filled top to bottom with candy. It makes you want to go be around family, it's almost like you could smell Christmas trees and candy. It makes you want to shop. It puts you in the holiday spirit. I feel as if I did Christmas shopping at Ala Moana.
Are you a fan of Christmas movies? Do you have a favorite?
It's a Wonderful Life, and White Christmas with Bing Crosby. It (White Christmas) was in New England and there was all this snow. I love old Christmas movies, they're just so much fun.
To whom would you recommended this movie?
I have three brothers, so I thought it would be funny to go with your siblings, families coming home for Christmas looking for something to do.
It's fun, easy, like eating a big bag of candy - it's so sweet and you feel a bit nauseous afterwards, but you get away from the traffic (of Christmas).
Out of four stars, with four being the highest, what would you rate this movie?
** 1/2.
Favorite movie snack?
I really like popcorn with mochi crunch and candy corn. If you put the candy corn in the popcorn, it gets soft.
What's new?
I am from Kailua and now live in Boise, Idaho. I wrote Santa's Hawaiian Holiday, and I'm coming home to Hawaii for two weeks for book signings and workshops. There's a book launch party on Nov. 28 at Borders in Windward Mall at 6 p.m. The public is invited. (There will be) food, drinks, it's just a way to start the holiday shopping season. I am currently working as a writer in residence at a school Oregon. I go (to Hawaii) once a month to teach. I was back there this summer; I had a book come out. I try to get home at least once a year. I am excited to come home and go into the schools and teach writing workshops. I never did that before in Hawaii.
Next week: a new movie, a new celebrity
Most Recent Comment(s):