Wednesday - August 03, 2011
By
.(JavaScript must be enabled to view this email address)

Movies Showtimes
Share

Cindy Paliracio
Television Host, Hawaii Goes Fishing
Where did you see the movie and with whom?
I saw it at Consolidated Ward 16 Theaters with a date, my really good friend and MidWeek writer, Alana Folen.
Overall, what did you think?
I was pleasantly surprised. Actually, I didn't know what to expect with a title so risque. I really enjoyed Mila Kunis' performance. There was definitely a lot of chemistry and tension between Kunis and Justin Timberlake, who plays Dylan. Their attraction to each other as well as their emotional hang-ups are very believable. The film's pacing is engaging, the writing is sharp and the characters are smart and interesting. I enjoyed watching it from the beginning to the end.
On a scale of one to four stars, how would you rate this film?
I'd give it 3 ★★★.
Was the message/theme of the film clear?
Well, the title itself makes me blush and chuckle. But without giving away any details I'd have to say the message is very clear, that casual relationships just don't work out, and that good oldfashioned courtship is the only way to go when it comes to "hooking up."
Did you identify with any of the characters?
I'd have to say Jamie, Mila Kunis' character reminds me of when I was fresh out of college. She's successful, fearless, funny, carefree but totally inexperienced when it comes to relationships. That pretty much sums up how I was in my earlyto mid-20's. I am definitely a lot wiser now when it comes to dating.
Don't be afraid of opening up and trusting your heart.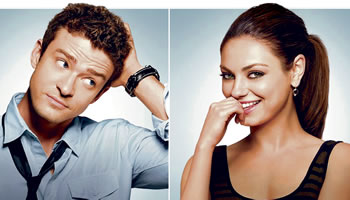 Did it remind you of any other work in film?
FWB reminded me of romantic comedies such as He's Just Not That Into You, Love Actually and The Ugly Truth, which was briefly mentioned in the beginning. Although I thought it was better than those three movies.
Who would you recommend this movie to?
I highly suggest this movie to see with your girlfriends. It makes a good date movie as well. There are real life situations that both men and women can definitely identify with, and chuckle about.
Would you buy this movie when it comes out on DVD?
Absolutely! I am sucker for romantic comedies. And I love the fact that FWB was shot in New York. The scenery, landmarks and the city's fast-paced essence were captured in the film. I love that city, and FWB made me want to revisit the Big Apple.
On a different note, what's new with you?
The Hawaii Goes Fishing gang and I have been busy filming a lot of fishing action. We just finished shooting shoreline fishing on the Big Island and we're gearing up to go trolling off Lanai and West Oahu. We're also planning to go fishing with Uncle Buffalo Keaulana, his son Brian and comedian Lanai Tabura. We actually tagged along with the watermen on a fishing trip but they only caught a baby papio. We all had a good laugh, but the trip was cut short because it started to rain. Normally, we would have continued but rain doesn't make for good TV.
In addition to fishing action, we're also covering issues like conservation and sustainability. We're also working with state officials, local fishermen and island chefs who share the same passion about perpetuating and preserving our Islands' precious land and ocean resources. The message is simple: Malama the aina.
You can catch Hawaii Goes Fishing on OC 16, every Sunday at 5 p.m. and throughout the week. Check local listings for times.
Most Recent Comment(s):