Wednesday - August 05, 2009
By Kerry Miller

Movies Showtimes
Share

Paul Klink
Chairman Emeritus, Klink Inc.
as told to Kerry Miller
Where and with whom did you see the movie?
I saw it at Dole Cannery with my friend Susan Ishihara. I'm going to back to see it with my son Leo, he's 14. I prepared him for it.
Overall, what did you think?
It was an exemplary drama/comedy. It covered all the emotions.
What did you think of the acting? All the actors were great, but I was really surprised by Adam Sandler. He had to be a steward of a character who is going to die, even though the script said he was going to survive at the end of the movie. It was freaky for me seeing this movie. I've had multiple heart failures. No man in my family has lived past 40.
I just celebrated my 44th birthday. I ain't ashamed to say it.
As someone who has had a near-death experience, what did you think of the way the movie portrayed the experience? Was it realistic?
It seemed a little bit trite, that part of the movie. It could have been too deep and way overbalanced, but the object of the movie was to show Adam Sandler's character George wasn't learning his lesson despite the health challenge.
Did you identify with the character George?
Yes, in some ways. In my life there's times where I have to remind myself, sometimes I can get back into my old habits. I'm really happy to wake up.
Was there an overall message of the movie that, as a viewer, you felt you walked away with?
To cherish every moment and don't take anything for granted, because you might not have it tomorrow or in the next moment. Don't take your health for granted, even. There were cameos from Dave Attell, Ray Romano and Eminien (and others). I think Adam, the writers and producers learned a lot by doing the movie and were stewards by making it.They wanted to show they don't take their own friends for granted. I heard through the grapevine they worked hard at getting their friends in the movie, some of the stand-up that's in this movie is a compilation of a lot of different comedians. Some of these guys are in there big.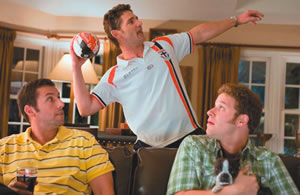 Did you have a favorite scene or character?
George, I related to that character. Jonah, Leslie and Adam were able to get into the characters and helped get me into the movie.
On a scale of one to four stars, what would you rate this movie?
★★★ 1/2.
To whom would you recommend this movie?
Everybody who's not offended by swearing. There was a lot of gratuitous swearing that I felt didn't add to the movie.
What's new?
I'm retired. I am chairman emeritus of Klink Inc., a marketing, advertising, communication and computer sciences company. I'm probably most well known for the "Live Aloha" phrase, the bumper stickers you see around.
Most Recent Comment(s):