Wednesday - May 12, 2010
By
.(JavaScript must be enabled to view this email address)

Movies Showtimes
Share

Angela Angel
Director of Creative Services, 'Olelo Community Media
Where and with whom did you see the movie?
I saw it at Koolau Theaters with my son, Hunter.
Overall, what did you think?
I think "cute"and "funny"are the best words to describe this film. It kept us laughing out loud, and though the story is really simple, we were never bored.
On a scale of one to four stars, what would you rate this movie?
I would give it ★★, only because it's like a made-for-TV movie, but Hunter, who is 8, actually said it was better than Avatar,which totally blew me away, considering how fast-paced and intricate most of the movies are that he's interested in, in comparison to this one. So I guess that adds a star? (laughs)
How was the cinematography? Were the animals believable?
What was interesting was that this film wasn't filled with heavy-duty, over-the-top, expensive animation. It was very simple and almost looked like puppetry, but I'd say it was completely believable in an unbelievable situation.
Was it as good as or better than the previews made it out to be?
There was a lot of hype about this one, but at least the previews gave a good sense of what the movie was about: A simple story that's good for kids.The previews were pretty straightforward. It delivered exactly what was advertised.
Did the music contribute significantly to the movie?
There was lots of loud,energetic music,but nothing really special until the music video right before the credits at the end. It's a hoot and totally worth sticking around for.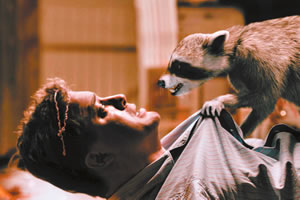 Did it remind you of any other film?
I haven't seen a film like this in a long while. It's one of those things that I never considered going to originally,but I have to say,after taking my son and seeing how much he loved it, and how good the humor and the life lessons were, I think I'd see more films like this in the future.
To whom would you recommend this movie?
This is not a date movie unless you want to prove to your girlfriend that Brendan Fraser isn't always hot (laughs). I'd recommend it to parents of young children and their families, though.The kids get to enjoy it, laugh and learn a valuable lesson.
Do you think audiences will relate to the storyline/characters?
It's very relatable. Brendan Fraser wasn't afraid to make himself an adorable yet utter fool,and the human characters are really quirky and exaggerated.All in all, the stars were really the forest animals, and it really left you with a sense of caring for our environment and our ohana.Those two themes were very clear. I totally related.
On a different note, what's new with you?
'Olelo is gearing up to recognize 93 final-ists for our seventh annual Youth Xchange banquet May 17 at Ihilani Resort and Spa, and at that event the winners will finally be announced.Winning schools get a Sony video camera.What's cool is to see students using technology as an empowerment tool, allowing them to speak out on things that are important to them.
Most Recent Comment(s):