Wednesday - September 16, 2009
By
.(JavaScript must be enabled to view this email address)

Movies Showtimes
Share

Bryce Pang
Game Adviser, GameStop
Where and with whom did you see the movie?
I went to the Regal Windward Stadium 10 at Windward Mall with a friend of mine.
Overall, what did you think?
The movie wasn't too bad. It was short, but it was a good action film.
What about the acting? Did anyone stand out?
I'm already a fan of Gerard Butler, so I thought his acting was pretty good, and the other actors did well, too.
Was there a song in the movie's soundtrack that you particularly liked?
Actually, in the scene where Gerard Butler is escaping,this song called Sweet Dreams by Marilyn Manson is playing in the background, and the tune just fit that part of the movie really well.
On a scale of one to four stars, what would you rate this movie?
I'd give it ★★ just because I think it's been done before.
To whom would you recommend this movie?
Anybody who likes action movies, basically. There was lots of swearing, so it's not for little kids.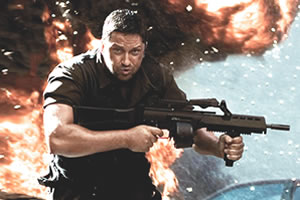 Without giving away the ending, what was one of your favorite scenes?
My favorite scene was when Gerard Butler escaped,just because the soundtrack was great there and it was a good action scene.
What did you think of the cinematography?
The special effects were really good; 10 years from now games might look like that, minus the whole mind-control vs.ethics deal ... I don't think gaming will get to that point.
Is the movie worth the ticket price?
As long as you like action and you're not looking for a brand-new premise for a movie, then it's worth it. I would go see it if you just want the action.
Would you buy the DVD?
I probably wouldn't buy it since it was too short - it was only a little over an hour and a half long.
How often do you go to the movies?
I go about once or twice a month, depending on what's coming out.
What was the last movie you saw in the theater (before Gamer)?
The last movie I saw was Inglourious Basterds, but I didn't care for that one all that much.
Did Gamer remind you of another work of film?
It reminded me of Condemned with Stone Cold Steve Austin. The story was so similar.
So what's new at GameStop?
The Xbox 360 and the PlayStation 3 are now at a brand-new low price,and if you come down while picking up either of those systems you should also look in to buying Call of Duty 4: Modern Warfare,Tekken 6,or Halo 3: ODST.
Most Recent Comment(s):