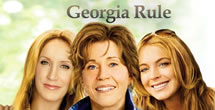 Wednesday - May 23, 2007

Movies Showtimes
Share

Georgia Rule
Jill Kuramoto
Weekend anchor KITV
As Told To Melissa Moniz
Where and with whom did you see the movie?
I saw the movie at the Consolidated Theatres at Kahala Mall with my friend Darrell.
Overall what did you think of the movie?
Well,it was the epitome of the chick flick. Definitely about female empowerment. It was an OK dramedy. The characters were a little hard to believe, and sometimes it was kind of a mess when it came to who's telling the truth.
Did you find that the movie was relatable?
No, not really.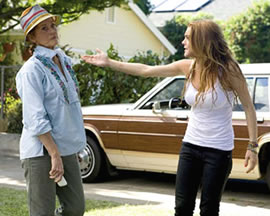 What did you think of the acting?
Felicity Huffman plays a good drunk. But who I think really stood out was Jane Fonda. She's the feisty disciplinarian whose life is all about rules, but you see the vulnerability in her character and why the rules helped her to survive.Lindsay Lohan was surprisingly good, but then her character isn't too much of a stretch from her real life, if you read tabloids.
Did the movie have a deeper meaning or an overall message?
I don't think it had a deeper meaning, but I think the underlying story is that the basis to any relationship is trust, honesty and forgiveness.
What was the best aspect of the movie?
It was good to see Jane Fonda back. I thought she did a pretty good job.
Is this a movie that you would see again?
No.
What type of audience do you think would enjoy the film?
I think it's a good movie to go see with your girlfriends, but it's not a teen movie because it's got some pretty heavy subject matter.So it's not your usual girls-want-to-have-fun story line.
Were there any laugh-out-loud scenes?
The movie was pretty predictable. There was one scene where Rachel (Lindsay Lohan) gets fed up with the local girls in the town and terrorizes them. I guess that was kind of funny.
In a four star rating, with four being the highest, what would you rate it?
I'd give it HH.
What's your favorite movie snack?
I have to have popcorn and mochi crunch.
What's your favorite movie of all time?
I don't have a favorite movie.

Same thing,I don't have a favorite actor or actress.I like Johnny Depp,Tom Cruise, Tom Hanks,Hilary Swank,Salma Hayek.
What's new?
I still anchor the weekend news on KITV. That seems to be going well and I thoroughly enjoy it.In this business,every day is the unexpected because you never know what breaking news will happen next.I'm blessed with a great job,a great family and great friends, so life is very good right now.
Next week: a new movie, a new celebrity
Most Recent Comment(s):