Wednesday - August 10, 2011
By
.(JavaScript must be enabled to view this email address)

Movies Showtimes
Share

Kaleo Pilanca
Entertainer and Comedian
What did you think of the film?
I was excited to see how our local celebrities would do with their acting skills. Not bad, and for the most part, believable. The comedy writing was familiar to me since most of it was Hawaii local humor. Blending the pidgin with Hawaiian and how people are taught to speak in proper English was nice to see. This movie is definitely for adult eyes and ears only, and not for the kids. The sexual innuendos and some swearing may be too much for our next generation. The musical soundtrack was great. Eric Gilliom did the best acting job for me, he made me laugh the whole time. Willie K showed some great acting moments, too. But you know love scenes are always hard for us local boys. I married my wife 'cause she was the only one that said yes to me ... and my proposal was: "What, babe might as well, ah!" Nah, just joking.
On a scale of one to four stars, how would you rate this film?
★★1/2. The music was the best part of the show, and since I love Willie K and Amy Hanaiali'i, they help make the ratings go up. I liked the dog, too. Merton (Gilliom) was cool and wacky.
Was the message clear?
The movie was jumping all over the place, but since I, too, have a wacky way of thinking, the message came across. Willie's character was working so much to please others and help others for the sake of his job, he forgot about his loved ones. So, in life, it may be better to work in something you love doing so it's not really work, and work with the one you love so you're always together. As far as all the other characters, they showed there is a place in life for everyone, you've just got to be patient. Not the kind patient in the hospital (bumbai no can work), but take-your-time patience, then the job will find you. Happiness is right around the corner! Everybody dreams big, but nothing's going to happen unless you wake up from that dream, get up and do it!
Did you identify with any of the characters?
I see myself as Merton. He made me laugh the whole time. Eric Gilliom did a great job. For me, all I think about is the ocean and surfing all day. That is what keeps me balanced in life. If I could just be at the beach surfing or teaching my keiki to surf, that would be my dream.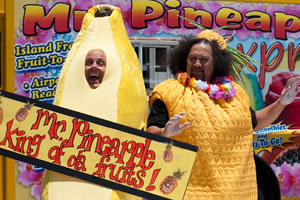 To whom would you recommend this movie?
I recommend this movie to the homeless or people who are looking for a job to give them humor and at the same time motivation to do whatever it is they love to do in life that makes them happy. This movie is for everybody or anybody who wants to laugh and not take life too seriously. Everything will work out for itself, as long as you have a job you love doing and you make time for family.
Would you buy it on DVD?
Yes, I would send it to all my relatives who live on the Mainland. This would help them with homesickness.
What's new with you?
Today I own my company called KP Entertainment, providing emcee, comedy, deejay, sound and lighting services for our island weddings, baby luau, graduations and more. Please call 429-8255 for bookings. I'm also working on my next projects, which include a few DVD projects, a CD, my stand-up comedy and a 30-minute special featuring my own characters, off-the-wall antics and kolohe ways. It's going be good fun. Many things coming up that I'm working on, so be on the lookout.
Editor's Note: Get a Job! premieres on Oahu Aug. 12 and 13 at Hawaii Theatre in downtown Honolulu. The movie starts at 7:30 each night, and tickets cost $17 with a $3 restoration fee. Call 526-0506 for more information.
Most Recent Comment(s):