Wednesday - July 02, 2008
By Kerry Miller

Movies Showtimes
Share

Le'a Kunipo
Miss Hawaii Teen America
As Told To Kerry Miller
Where and with whom did you see the movie?
I went to Kapolei Theaters with my brother Kai,my sister Kaimalie and my cousin Cathy.
Overall, what did you think?
It was an awesome movie, hilarious. Also, great action-fight scenes that were pretty cool.
What about the acting; did anyone stand out?
Steve Carell is hilarious. Also, Anne Hathaway - it was different seeing her. She wasn't a little princess; you see her really grown up in this movie.
Are you a Steve Carell fan? How does this compare to his other movies?
He's pretty funny. Some of his comedy is off the wall - he's just mental. Some of his other movies are really more adult comedy. I think this, kids can get it; it's not so much grown-up, adult-kine comedy.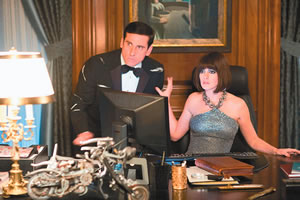 On a scale of one to four stars, what would you rate this movie?
★★★1/2.
Anyone and everyone. It had a little bit of everything. If you like funny, action-packed, it's really cool.
Favorite movie snack?
Popcorn - I love popcorn.
What's your favorite type of movie to watch?
Anything that looks good that's not scary - funny, action romance, whatever.
How often do you go to the movies?
Actually,I go to the movies a lot. I think I've seen every movie this summer.
What's new?
I leave next month to Nashville for the Miss Teen America Pageant. I've been holding several fundraisers and have just been volunteering, had some appearances. Right now I'm volunteering at Summer Friends at Pililaau Park in Waianae. I also help out at Kapolei Library; I help with the summer reading program. I'll be appearing at the Fourth of July celebration at Maili Beach Park at noon.
Most Recent Comment(s):