Wednesday - September 24, 2008
By Kerry Miller

Movies Showtimes
Share

Kento
Local comedian and owner of Flyin' Hawaiian Balloons
Where and with whom did you see the movie?
We went to Dole Cannery with the family.
Overall, what did you think?
Just a very smart comedy.The star, Ricky Gervais, I knew him briefly from a British series, The Extras. Originally he is from Britain, and he is the master of comedic scenes when it comes to awkward situations. He's just brilliant when it comes to that kind of humor. This was really touching and heartfelt. It really goes back to a life worth living is living with others.
Tell me about Ricky Gervais's character, Bertram Pincus.
He's a dentist, doesn't like people.What happens is he goes into surgery and he has to be put out; he dies at the table for seven minutes. When he recovers he is able to see the dead - they want to communicate with him to have him do something for them that they left undone. The whole movie is him ignoring them.
What about the acting? Did anyone stand out?
Greg Kinnear, of course, he played a great kind of an arrogant character. I can't say enough about Ricky Gervais, just absolutely brilliant in the role. I thought he pulled this off really well.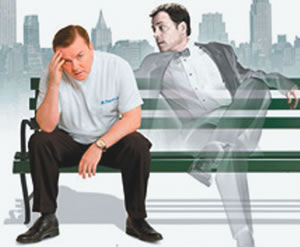 As a comedian, how funny would you say this film is?
I found it just to be very smart comedy. I love all types of humor.There are smart comedies that kind of bore you, this was a smart comedy, and you get a lot of big laughs. It was smart without getting pretentious, with a good storyline.
On a scale of one to four stars, what would you rate this movie?
★★★ 1/2
To whom would you recommend this movie?
Definitely being a stand up, I recommend it to all my comedian friends. Ricky Gervais also does a stand-up routine, which is brilliant. Anybody who just enjoys good humor. Family, little kids might get bored with it. Probably teenagers and older would have a great time with it.
Favorite movie snack?
I'm old fashioned. I love buttered popcorn with a lot of salt.
What's your favorite type of movie?
I'm the big Star Wars geek, comedies, science fiction, action, I love Rambo. Every now and then I see the odd independent comedy.
What's new?
I'm at the Sheraton Princess Kaiulani every Friday and Saturday for the Comedy Polynesia Show at 7:30 and 9 p.m. I run a balloon shop, Flyin Hawaiian Balloons. I was on KGMB's Morning Sunrise show for its one-year anniversary. They had other entertainers and stuff there. My part was throwing out balloons and making balloons for kids.
Most Recent Comment(s):