Wednesday - May 13, 2009
By Kerry Miller

Movies Showtimes
Share

Sam Jones
Intern for IKAIKA Communications
as told to Kerry Miller
Where and with whom did you see the movie?
I went to Windward Mall,and I actually ended up seeing it with a random group of people who were going to see it as well, mainly girls.
Overall, what did you think?
I thought the movie was good,it was a good story.It was really predictable - you know what you're getting into as soon as you get into the theater.Overall, it was OK.
Matthew McConaughey has been in a lot of romantic comedies lately.What did you think of his performance in this one?
His performance really held the movie together. Everyone else was good, but he really held it together. It was a romantic comedy that lacked a lot of comedy but had a really compelling story with a touch of drama.
Have you seen his other romantic comedies? If so, how does this one compare?
I've seen a lot of his movies. I was kind of looking forward to this one. I liked his other movies more because they had more laughs, the audience was more into it. This one left you with a lot of introspective moments.You're kind of getting more into the characters more like you would with a drama.
Are Matthew McConaughey and co-star Jennifer Garner believable as a couple?
They were believable.There was bickering and fighting throughout the movie.The film had a really great setup of how they met, a good introduction of each character.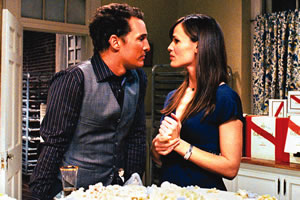 In the story, how does Matthew McConaughey's character change or grow as a result of being visited by his past girlfriends' ghosts?
He gets a chance to look firsthand at where he went wrong and places he could improve. They look at it as the creation of how he is now. He sees how he hurt other people,especially the people he cares most about.He realizes if he doesn't change his ways, he's going to end up sad and alone.It models itself almost like a Christmas story,which is strange because it opened in summer. It snowed a lot (in the movie).All it's missing is a Christmas tree and Santa Claus.
Could you relate to anything that McConaughey's character went through in the movie?
I understand nervousness about getting into a monogamous relationship.I'm actually proposing to my girlfriend tomorrow (May 8). I'm right there with him about making a commitment. I also understand how girls can come back to haunt you. I felt some of the remorse that he went through.
What was your favorite scene or character?
My favorite scene was when Matthew McConaughey was down at the bar right after the rehearsal dinner for the wedding and he was talking to the bride's mother, and he ended up trying to hit on her. It was one of the lighter moments of the entire movie.
On a scale of one to four stars, what would you rate this movie?
I'd have to say ★★ 1/2. I really love comedies.It was a good story but developed into a drama.There just weren't enough laughs. Most girls would probably rate it a bit higher than I did.
To whom would you recommend this movie?
I'd definitely recommend it to couples,girls who want to take their boyfriend out.Anybody who's really into drama should go, because you'll get a few laughs along the way.
What's new?
Right now I'm interning with Mona Wood at IKAIKA Communications. I'm her assistant, so whatever she needs done I have to do. I'm into everything; it's a lot of fun.
Most Recent Comment(s):