Wednesday - January 25, 2006
By
.(JavaScript must be enabled to view this email address)

Movies Showtimes
Share

Glory Road
Movie Review with Artie Wilson
Realtor and UH basketball announcer
As Told To Terri Hefner
Where and with whom did you see the movie?
I actually took my family to see the movie at Kahala Theatres: my wife,Lisa,and my three daughters, Danielle, Chloe and Madison, and a couple of their friends.
Overall did you like the movie, and why?
Yeah,I think the movie was very good.I enjoyed it. It was an era when I played basketball so I can relate quite a bit to a lot of things that happened.At the time of that event I was in the eighth and ninth grade, so that's when I really started playing the game of basketball. I thought it was a very good movie.I was actually surprised.I was not expecting it to be as good as it was.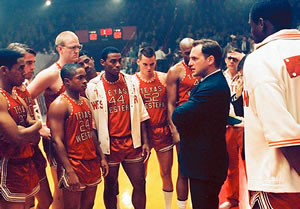 Did the movie get its message across? Did it do justice to the real life story?
I think, for what you can do with a two-anda-half hour movie, I thought it told the story as well as a Hollywood version could tell it. I think there were a lot of things they probably left out of it, things that maybe would not be politically correct to share, but all in all I think the story was told, and told pretty well.
Did you have a favorite scene?
No,I wouldn't say that there was any one particular scene that was my favorite. I think it was a real example of young guys leaving the comfort of their neighborhoods and their homes to go and experience something foreign and different. It was kind of exciting to see because I remember when I first left Portland to come here it was a completely different environment, and that was only four years after that event happened. So I could relate in a big way.
How would you rate the acting?
I thought the acting overall was very good. I thought the characters, for the most part, were believable. I thought the actor who played the Kentucky coach had an air of arrogance about him that was real.I wish they had developed that character a little bit more and showed the real Adolph Rupp, but I guess that would not have been real politically correct or politically popular because of his racist attitude and his arrogance.But I think that they got the point across OK, that he was a fairly arrogant, racist man. I thought the actor who played Don Haskins, I thought he did a nice job of portraying a young Don Haskins. I actually have met him and I've interviewed him when the University of Texas El Paso was in the WAC, and I think the character was a little more sophisticated than the real Don Haskins. I think Don Haskins was really pretty much a cowboy. He was really country. But he had a good heart and he had a tremendous desire to win,and I think that was displayed in the movie in a nice way.
To whom would you recommend this film?
I think everybody should see the film.I would like to see all young athletes go see it because there were a couple lessons in the movie that I thought were really critical - how to compete and how to play together as a team and how to withstand harsh criticism and harsh treatment from fans, and try to keep your composure, and how to persevere under trying circumstances - I think there were a lot of good messages for young athletes.I think it would be good for young minorities to see it because I think a lot of people fail to realize that it wasn't that long ago that it wasn't real popular for an all-black team to take the floor in the NCAAs, and it wasn't that long ago that there were problems like that. A lot of people forget that there was a lot of racism and a lot of troubles that people had to endure in order for a lot of people today to have the freedom and the favors they get right now. I think it would be very good for young athletes to go to see it and understand exactly what some people had to endure and go through in order for them to have their freedoms and their responsibilities and their rights to do things now.
In a four star rating, with four being the highest,what would you rate this film?
I'd give it 1/2. I thought it was entertaining,it was fast-moving,there wasn't a lot of deep dialogue that would make you have to sit there and really strain to listen to make sure you heard everything. I thought it was an entertaining movie,and for the time that they were allotted, probably, to put it all together they did a nice job with it.
Even though it was a bit too politically correct?
Yes. If there was one wish I would have had is that you could have gotten the full flavor of different characters a little bit more and found out a little bit more about their personal lives. It was almost too generic in some instances, with some of the circumstances and situations that the young black athletes had to go through.Because at times they appeared almost too accepting of rough situations and too much willing to turn the other cheek, when I know in fact there were a lot of guys who were not so quick to turn the other cheek. But for Hollywood's sake it made the movie flow a little better if there's weren't a lot of confrontations and violent actions and behaviors and outbursts.
How often do you go to the movies?
I go maybe once a month. It depends on what's out. I like to go to the movies.
What's new with you?
Not a whole lot,just continuing to enjoy my real estate career and family,and enjoy basketball and pretty much enjoy life.I have no complaints. I hope 2006 is as good as 2005 was.
Next week: a new movie, a new celebrity
Most Recent Comment(s):