Wednesday - January 18, 2006
By
.(JavaScript must be enabled to view this email address)

Movies Showtimes
Share

Grandma's Boy
Movie Review with Stephen Florino
Reporter News 8
As Told To Katie Young
Where and with whom did you see the movie?
I saw it at the Mililani Theaters with my wife, Sheri, and a couple of friends, Arlene and Trav.
Overall what did you think?
To be honest, I wasn't expecting much because I hadn't even heard about the movie. But I have to admit, I enjoyed it. it's definitely not gonna win any Academy Awards, but it was funny.Adam Sandler is an executive producer, so that sums up what you can expect.
What was your favorite scene?
Hands down, it was when Alex had trouble sleeping at his friend's house, so he was looking for something to help him relax.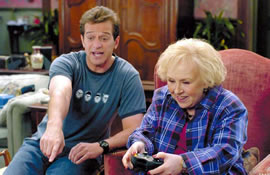 Did you have a favorite character?
All the characters were so over the top, it's hard to just pick one. Alex's friend "Jeff" was funny. He still lives with his parents, wears pajamas in his race car bed, has his mom pick him up from work, and still calls her "Mommy." The other one was "J.P." If dorks had a king, he'd be it.
How would you rate the acting?
I don't think this was a movie where being a great actor was necessary.
Did the movie have a meaning?
I don't think this movie was put together with a deep meaning, but it did show me a few things:
1) Several things are needed for a great party. Karaoke is one.
2) December-May romances are cool.
3) Video game testers are dorks.
What was the best/worst aspect about the movie? Why?
The best - the characters. Everyone was so over-the-top, and every stereotype was just magnified, it was just "make your face hurt cause I'm laughing so much" funny.
The worst - I dunno, the story concept? I wanna know who came up with this and said "hey, that'd be a great movie."
Is it a movie you would see again?
Yeah, probably. If it was on, I would watch. But I'm not sure if I have to watch it 10 times.
To whom would you recommend the film?
If you like toilet humor, then this movie is right up your alley. And if it's not, go see it if you need a good laugh.
On a four star rating, with four being the highest, what would you rate the movie?
For entertainment value, four stars.
What's your favorite movie snack?
I don't really have one, because I don't go too often. But I can eat homemade party mix by the barrel.
What's your favorite movie? Why?
I don't think I can narrow down just one ... one I do like is Bruce Almighty. He was a struggling news guy. She works with children. Their relationship is strained because he's concentrating on advancing his career, instead of the things that are really important. It's almost a mirror of my life.
How often do you go to the movies?
Well, the last time I saw a movie at the theaters was Star Wars: Episode 3. The last one before that was Spider-Man 2. So, not very.
Who's your favorite movie buddy?
Definitely my wife, Sheri.We share the same off-beat humor. We were both laughing at one of the commercials before the movie.
What genre of movies do you like?
Comedy, drama, documentary, romance - I guess it just depends on the mood that I'm in.
Who's your favorite actor/actress? Why?
Eddie Murphy was real funny back in the day.And I like Jessica Alba and Sarah Michelle Gellar, but not necessarily for their acting skills.
What's new with you or with KHNL8?
The 2006 Winter Olympics is coming up in February, so that's a big month for KHNL and NBC. Personally, I got married last March, so I guess that still makes me a newlywed. Right now, Sheri and I are just enjoying life together.
Next week: a new movie, a new celebrity
Most Recent Comment(s):