Wednesday - July 07, 2010
By
.(JavaScript must be enabled to view this email address)

Movies Showtimes
Share

Kutmaster Spaz
DJ/Entertainer and Executive Producer/Host, DIS-N-DAT
Where and with whom did you see the film?
I went to Koko Marina 8 with my wife Patti.
Overall, what did you think?
I loved it. It was a really great show and totally worth seeing. I'm glad we went!
On a scale of one to four stars, what would you rate Grown Ups?
I would say ★★★★, because honestly it was really well-written. I was wondering if they ad-libbed too, because there were lots of good one-liners and the timing was always dead on. It was just like cutting up with your friends with how they picked on each other and everything. It was just real.
Was the story-line easy to follow?
It was really easy to follow. Because there were different families and characters involved, it was also really relatable on a lot of levels.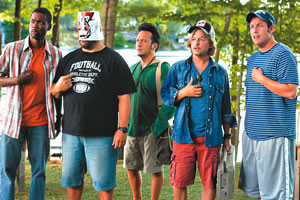 How was the acting? Did anyone stand out?
You know, they all played really great parts. Chris Rock (Kurt McKenzie) did a pretty good job because he wasn't his naturally off-the-wall crazy self ... he was actually more delicate.And I wouldn't be surprised if they used this same cast in future movies as well.
Did you identify with any of the characters specifically?
I would have to say Adam Sandler's character (Lenny Feder) was one I definitely related to, just because his job entailed working in the industry like mine does and he was pretty laid back.
Without giving away the ending, what was one of your favorite scenes?
Let me just say it was definitely funnier than the previews. It was like There's Something About Mary ... something happens, you laugh, and then you turn around and are laughing again because you can't believe they took it there. You just didn't expect the next thing that was going to happen. Everything's all calm and then boom, they hit you with a funny. It was funny at every turn.
Did it remind you of any other work in film?
There was so much, but, shoots, they played this game called "Arrow Roulette," and it was just hilarious.They shoot with a bow and arrow straight into the sky, and whoever runs first is the chicken or loser. It was too funny.
To whom would you recommend this movie?
It'd be a great date night film for couples or folks who are married and have kids.Ages 25 and up could probably really relate especially in the reminiscing aspect, looking back on childhood and all. Some of the content is a little strong for children, but other than that it's great for practically everyone.
On a different note, what's new with you?
I'm filming the new season of DIS-NDAT, and we're in season 15 now. The show features entertainment, food, music, lifestyles, people and trends in Hawaii, and season 15 will start airing the first Wednesday in August with a brand new episode at 10 p.m. on OC-16. Check it out.
Most Recent Comment(s):