Wednesday - August 01, 2007
By
.(JavaScript must be enabled to view this email address)

Movies Showtimes
Share

Hairspray
Andrew Magpoc
Producer/Director of TRX TV
As Told To Melissa Moniz
Where and with whom did you see the movie?
I saw it at Mililani Town Center, and I saw it with a friend, Christine.
Overall what did you think?
It was a great movie. I was very, very, very surprised. It was a very well-made musical.
Did you see the first movie or the play, or was this the first time you were introduced to Hairspray?
This is the first time I was introduced to Hairspray.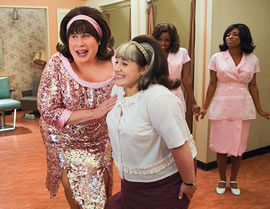 Did you go in with any expectations, and if so did it meet or miss your expectations?
Whenever I go to movies, I really go in open-minded. This one really surprised me because I was laughing and enjoying myself. It was very well-produced. The only expectation I had when I went in to the movie was I wasn't sure about John Travolta being a woman. And it still kind of felt funny to me because there was Christopher Walken and he normally plays a bad guy. Then all of sudden he's playing a husband opposite John Travolta. And so like these are two icons, whose movies I normally watch, and it felt really weird watching Christopher Walken making moves on John Travolta. And then in the beginning part he was about to kiss John Travolta and I was like 'oh my God, Christopher Walken is about to kiss John Travolta.' But then he ended up kissing John Travolta on the cheek.
There were a lot of notable actors in the movie. Did you have a favorite?
Queen Latifah. She did a great performance, and I didn't really expect that because I didn't know too much about the whole Hairspray thing, but I like her character. She did a great job and she stuck out a lot. And the main character did, too. She was impressive.
She did a fantastic job.
The one thing that impressed me, being in television, is there were shots that were like a continuous shot, so for her to be dancing and singing and pulling it off ... Everyone in the movie was having fun. It was great because you had this girl who wasn't your normal typical teen and not trying to be skinny and look super pretty. And it's great because she appreciates who she was and then she got the cute guy. I love that about the whole story. Today everyone is trying to be super skinny and have a certain look, but it's not about that. It's really about feeling good about yourself. I didn't know that was some of the premise of Hairspray.
How do you think the title fit the movie?
It was mainly based on the Hairspray pageant, and I also think in some ways it kind of ties into breaking into the plot that you don't have to look a certain way to get the good guy. And they kind of mocked it a little bit because everyone who was good-looking would hairspray all over. Every time the camera went off they were spraying. I found it funny that everyone else was using a lot of hair-spray.
Is it a movie that you would see again?
Yeah, I would go to see it again. My son is 10 years old, and he saw the promos and now he wants to go to see it.
On a four star rating with four being the highest, what would you rate the film?
I'd give it four stars. I haven't had that much fun in the movies in a long time. I don't usually laugh at movies, but this one got me laughing and got me smiling throughout the whole movie. It was a really well-made musical.
What's your favorite movie snack?
Muddy Bears. I love those. The first time I ever tasted it, it was like an unusual sensation. But then after I ate the second one, I could-n't stop eating it. I eat like two boxes.
Who is your favorite actor/actress?
Johnny Depp.
What is your favorite movie of all time?
I have tons of movies, but the one movie that I've watched a lot is The Fifth Element. It's really cool.
What's new?
With TRX, I've been doing that for about a year and a half. Lately we've been focusing on only local artists, because in the past we've featured Mainland artists. But now there's a twist to it because the only artists I'm going to feature are artists who play live instruments. Primarily we're going to focus on the indie rock and the reggae scene. I just talked with Marty Dread, who toured with Willie Nelson last summer, and we're thinking of putting together a one-hour televised special to bring in really good reggae acts like O-shen, Natural Vibes, and also invite Willie Nelson to come on out because for some reason he's dabbling in reggae. The one-hour special is going to be a benefit on recycling and being green. We're going to aim to do this at the end of summer. The channel hasn't been determined yet. And hopefully, Marty Dread said that he could call his friend Woody Harrelson to host this thing. It will be a really good event.
Next week: a new movie, a new celebrity
Most Recent Comment(s):