Wednesday - September 09, 2009
By
.(JavaScript must be enabled to view this email address)

Movies Showtimes
Share

Steve Fredrick
Owner, Steve's Walking Theme Tours and Films
Where and with whom did you see the film?
I saw it at Koko Marina; there were only two people in the theater - me and, like, a 20-year-old gal.This was the second showing of the day.
Overall, what did you think?
It's fair.I expected lots of blood and guts and it was very violent and very gory ... no suspense whatsoever,though.When Mike Myers kills somebody, it's not just one or two stabbings ... it goes on and on. I was saying to myself,"Mr.Zombie (director Rob Zombie), I get the point."This one just falls short.
What about the acting? Did anyone stand out?
Malcolm McDonald played the author who has written a book about Mike Myers and was probably the most standout actor of the film. He's a big bag-of-wind type character who ends up helping out in the end. In the cast credits, I was also surprised to see the actress who played Lois Lane in the Christopher Reeve Superman is in the movie,Margot Kidder.I didn't even recognize her.
Without giving away the ending, what was one of your favorite/least favorite scenes and why?
Nothing built up to Mike Myers.He's introduced in the first 15 minutes and then after that he's just randomly killing folks. It had great cinematography and atmosphere - the shadows,lighting and background settings were great, but everything else was just lacking.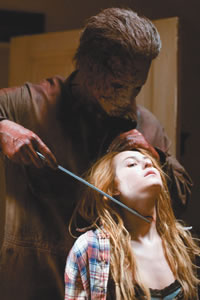 One a scale of one to four stars, what would you rate this movie?
I'll give it ★★, and that's because of the skills of the director and the cinematography.There was no development of character; I didn't care if they got killed or not. The script just didn't have enough meat on its bones.You could literally re-edit the entire movie,cut all the scenes up,put them in a hat,throw them in the air and reassemble it, and it wouldn't matter; it's all the same.
Who would/wouldn't you recommend this movie to?
If I was a parent of underage teenagers, I definitely wouldn't let them see this film. I have never heard the "F" word used so much in a film in my life.
Did this movie remind you of another work of film?
Everything I saw in this movie has been done before.There was nothing fresh. It's just a repeat pattern; you could almost time it out on your watch. Myers has no motive, and since we see his face from the getgo, it defies the age-old movie rule of not showing the monster until the end of the film.Screaming and hysterics take the place of character development for Mr. Zombie.
Is the movie worth the ticket price?
Well,it was a bargain matinee,but I don't think I'd pay full price for this. Halloween II just didn't give us enough; It wasn't developed enough at the beginning for us, as the audience, to care.
So what's new with you?
Well, I am still doing the Walk with the Dead once-a-year Halloween tour starting at 10 p.m.Oct.31.It lasts until 1 or 2 a.m. and I don't hold anything back; I rip it all out on that night and fill it with as many spooky stories as possible. I'll also do my regular ghost and history tours, which you can check out at stevestoursandfilms.vpweb.com.
Most Recent Comment(s):