Wednesday - April 20, 2011
By
.(JavaScript must be enabled to view this email address)

Movies Showtimes
Share

Hopie Spitshard
Singer/Songwriter/Musician
Overall, what did you think?
Ethereal, surreal and incredibly visually interesting. Director Joe Wright absolutely controlled every corner of his imaginary world. For this movie that relies heavily on visual stimulation, I felt he was very successful in submerging us in this universe. Unfortunately, however, the storyline fell a little short, and even the nonstop action and scenery couldn't keep me involved toward the end.
On a scale of one to four stars, how would you rate this film?
I would give Hanna ★★★ .
I loved the imagery - how Wright maneuvered us confidently from scene to scene, how one minute we are experiencing everything through Hanna's curious mind, but then immediately get jolted back into watching her kick butt and take names - but, I wish I knew more about her and the other characters.
Was the message/theme of the film clear?
One of the things I enjoyed about Hanna (Saoirse Ronan) was how accessible the story was: Young girl, cute and wide-eyed, is also an acutely trained survivalist in harsh environments, people are out to get her, action, action, action. The message was "don't judge a book by its cover," and every moment reinforced that pixie-like Hanna could destroy any opponent and any obstacle in her way.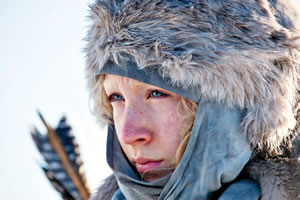 Did you identify with any of the characters?
I felt that the character development was stunted. I couldn't develop any emotion toward any of the other characters, which I felt was probably a result of Wright's emphasis on visual effects.
Did it remind you of any other work in film?
I think my initial thought when I saw the trailer was Bourne Identity plus Powerpuff Girls divided by Kill Bill, and I think I was right.
Who would you recommend this movie to?
I recommend this movie to people who enjoy fantasy movies, girl power and action, action, action.
Would you buy this movie when it comes out on DVD?
Absolutely. I could definitely use this movie in my DVD collection.
On a different note, what's new with you?
I'm here in Honolulu for my show (last Saturday at Blue Ocean Thai). Also, Monday my newest music video, Be a Lady, directed by David Dutton, which I am super excited for, was released. All of this is to gear up for the re-release of my latest LP, Dulce Vita, in stores and online April 26! I always update my website, HopieSpitshard.com, so check in with me!
Most Recent Comment(s):