Wednesday - February 21, 2007
By
.(JavaScript must be enabled to view this email address)

Movies Showtimes
Share

Hannibal Rising
Pomai
Radio Personality on Hot 93.9
As Told To Melissa Moniz
Where and with whom did you see the movie?
I saw the movie with Kamu, our promotions director, and my friend Jon Ching.
Overall what did you think of the movie?
It was good. It was bloody.. It was definitely a creepy movie.
Have you seen the other Hannibal movies that previously came out?
I have the DVDs. I love Hannibal.
How does this movie compare?
It's a little different because of course there's no Anthony Hopkins. It was interesting to see though what happened earlier in his life and how he became the monster that he is.
Did you find that by witnessing the horrible stuff that happened to him as a child that you sympathized with him and did you still feel that he was still not justified in what he does later?
You definitely have to feel a little sympathy because of what he went through. But on the other hand that doesn't justify eating people. It's a movie, so hey, might as well.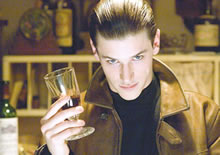 How was the acting by Gaspard Ullieil who played young Hannibal?
He would have been cute if he wasn't a cannibal. (laughs) He was good. He was no Anthony Hopkins, but he did a good job.
Did you leave the movie content knowing the history behind Hannibal's character or is there still some mystery left?
I think there's still a little bit of mystery, but you do leave the movie a little creeped out.
What was the most disturbing scene?
All of them. Most of the scenes that included them eating people's body parts were pretty gruesome.There were a lot of those scenes.
Is this a movie that you would see again?
You know I might buy the DVD just because I have the other DVD's and I could complete the set. But as for paying to see it again, probably not.
In a four star rating, with four being the highest, what would you rate it?
I'd give it a three and 1/2 stars.
What's your favorite movie snack?
Popcorn with arare and peanut M&M's.
What's your favorite movie genre?
I honestly like all different kinds of movies. But honestly my favorite is when HIFF (Hawaii International Film Festival) is here and there's all those documentary type of films.
Who's your favorite movie buddy?
That would have to be Jon and Kamu.
What's new?
Just to listen to 93.9. (laughs) Yeah, that's it. 10 a.m. to 3 p.m., Monday through Saturday. I also do Friday nights at Osake. We're there every Friday night and we've been doing that for over a year.
Most Recent Comment(s):