Wednesday - November 22, 2006
By
.(JavaScript must be enabled to view this email address)

Movies Showtimes
Share

Happy Feet
Justin Cruz
Radio Personality on 93.1
As Told To Melissa Moniz
Where and with whom did you see the movie?
I went to see the movie with my girlfriend, her little boy and also two other friends of mine and their kids.
Overall what did you think of the movie?
I thought it was an excellent movie.I thought it was great.You know, animated features are starting to get a little routine,but this one really broke the mold, and not just with the animation, but the story-line was excellent. It was fun.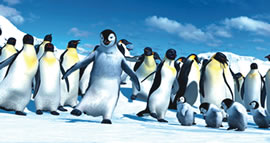 Did you have a favorite scene?
Anything with the four penguins or Robin William's Latino penguin character, Ramone. That reminds me, one thing I wanted to mention is that when you watch the movie, make sure to pay close attention, because Robin Williams' jokes are so fast and furious that if you're busy laughing too much, you might miss some of the other jokes.
How would you describe the movie to someone who hasn't seen it?
The movie is about what everyone kind of goes through in their life at one point or another, where you get some kind of rejection.And it's how you bounce back from that rejection, but it's put in this really fun setting.You have laughs along the way, and you see that individual grow. It teaches a great lesson with humor, and it's something that both kids and parents would really like.
In the movie, the main character, Mumble, was rejected as you mentioned, but aside from just being rejected by other penguins he was also rejected by his parents. What did you think about that?
Well being rejected by your parents, in my opinion,should never ever happen,but I thought it was cool how the parents learned the biggest lesson. I think it's good, because if that were to happen to someone in real life,you should-n't give up. The penguin in the movie never gave up,so that's good for a kid to watch that. It was sad to see that,but I liked the way that they weaved it together where everyone who doubted him turned,and he even turned himself.
A couple other people with whom I spoke also watched the movie and mentioned the idea that the whole penguin society was sort of paralleled to the Catholic Church, with a religious spin. Did you get that at all?
You know, I did get that nuance, but I think that is an incorrect portrayal of the church establishment. I personally don't jive like that,and I've never been to a church like that. It's more paranoia, and I'm not afraid to say that at all.They just played on that fear.That was one of the things that I didn't like. They made it out to be that every type of establishment is always wrong and you know it is time to change, but I've never been to a church that's been like that.All the things I've been to have been very loving and nothing like that grouchy penguin leader.
Is this a movie that you would see again, or perhaps buy when it comes out on DVD?
You know, I'm actually going to see it again over Thanksgiving,that's how much I loved it. And I'm going to take more kids. The kids will love it, and parents who haven't seen it yet should go see it.
What did you think of the music selection?
I thought it was awesome. They had some good old school jams and some new stuff that the kids like.The lyrics that were rewritten for the movie to the old school jams were really awesome.It was really music intensive, almost not quite an animated musical. I thought it was really good.
What did you think about the whole environmental message that came through in the movie?
I loved it! I loved it! I thought it was a great way to teach conservation to adults and kids. We need to save fish not just for penguins, but for us too. So let's not overfish the world.
In a four star rating, with four being the highest, what would you rate it?
I'd give it three and 1/2 stars.
What's your favorite movie snack?
Popcorn with jalapeno juice on top. I get the jalapenos, I put it on top and then I get the juice and I pour it over. I also like tabasco on my popcorn.
What's your favorite movie of all time?
Star Wars, of course.
How often do you go to the movies?
I try to go at least three to four times a month.
What's new?
I've got my morning show, and that keeps me busy during the day.And then during this time of year I'm getting booked to emcee Christmas parties.So I'm almost into Christmas party mode.Besides that, the radio station is giving away a whole bunch of trips all over the world.Toward the end of the year we are going to be helping with Toys for Tots.And just doing a lot of holiday seasonal stuff.
Most Recent Comment(s):