Wednesday - November 30, 2011
By
.(JavaScript must be enabled to view this email address)

Movies Showtimes
Share

Donna Lynn Nakai
Director of Events Services, Hilton Hawaiian Village
Where and with whom did you see the movie?
I went to Pearlridge West 16 with my husband Ke) and my twin 3-year-olds Alyssa and Aysen.
On a scale of one to four stars, what would you rate this film?
★★★
Without giving away the ending,what was one of your favorite scenes?
My most favorite scene was when Erik (the little penguin) is upset with his father, Mumble. Erik's mom, Gloria, can't see him, but he can hear her, so she sings him a song about love and forgiveness and that calms him down.
I relate to that because there's a lot of times when my kids fight with their dad, and I calm them down. Not by singing, though. It's the whole mom thing.
What did you think of the cinematography?
I really liked it because it involved not just the computer graphics with the cartoon itself, but they brought in real humans. They didn't do humans in a digital fashion, they had real humans, which was a really good combination of the two.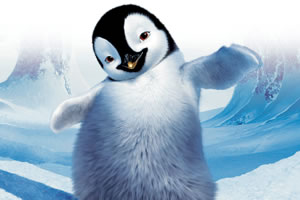 Did any of the characters stand out?
I really liked the little one, Erik. When you're that young, you have great faith, great belief and great love. When you get older you get jaded you don't believe in Santa anymore, you don't believe in people being nice anymore, but he exemplified the fact that you have to believe.
Did the soundtrack contribute significantly to the film?
Absolutely, the soundtrack was at least an 80-percent contribution because they had so many talented singers and songs to the point where I'm going to buy the soundtrack.
Did you identify with any of the characters?
I identified with the mother, Gloria, because she has to remain calm even if she's scared, and you can tell she's scared. It was hard not being with her son, and it's hard for mothers to be away from their children.
Would you buy this movie when it comes out on DVD?
Yeah, I think I would. My kids really got a kick out of it.
On a different note, what's new with you?
At the Hilton Hawaiian Village, home to eight African black-footed penguins, there is a "best holiday party ever" lunch event Dec. 16. It's $50 inclusive per person and includes a buffet, entertainment and door prizes.
We've noticed that the economy has been rough, and people don't do big holiday parties anymore.
We're gearing it toward offices. But it could be for large families also, and we have communities like church organizations who have signed up already.
Most Recent Comment(s):