Wednesday - December 01, 2010
By
.(JavaScript must be enabled to view this email address)

Movies Showtimes
Share

Harvey Ouchi
Magician, Koolau Magic Theatre
Where did you see the movie?
I saw the film at Pearlridge West 16. I actually saw it twice because there was so many things going on. I haven't seen all the Harry Potter movies, but I've seen most of them.
Overall, what did you think?
There are so many things that I didn't notice in the other movies that I noticed in this one.They leave little clues along the way that pop up throughout.There were some slow parts, as this one kind of concentrated on more of the relationship among the main characters. I appreciated the attention to the human relationship among those characters.
On a scale of one to four stars, what would you rate this film?
I'd say it deserves ★★★ 1/2 stars.
What did you think of the cinematography?
I thought it was definitely better than average. They did a fine job filming and with the illusion aspects.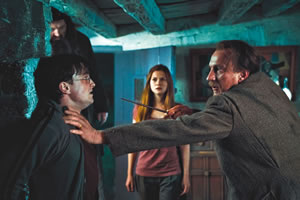 As someone who works with illusions and magic, how did you relate to the film?
It kind of followed the Koolau Magic Theater. I usually just see the movies and enjoy them, but I noticed a lot of similarities between the movie and our show. I'm thinking of calling my wand the little Harry Potter wand now.There were parts of black art revolving around darkness and illusions, which we sometimes use too. There is a lot they can add to the effect through filming that would be difficult for us to create in real life.
To whom would you recommend this movie?
I would recommend it to all audiences, except I would advise a little caution to the really younger viewers, because there is such a huge battle between good and evil. The legend, of course, of the Deathly Hollows is one of the struggle between life and death, good and evil. You don't know how a child would interpret that and what type of image and effect that will leave on them.
If they haven't seen any of the previous Harry Potter movies, could someone still enjoy and follow this movie?
They would enjoy it. It would be hard to follow everything. It does give a brief prelude of the main characters. Everyone will enjoy the basic plot of the movie even without seeing the others.
Without giving away the ending, what was one of your favorite scenes?
I like the chase scenes in all the Harry Potter movies. In the beginning they show Harry, and there are all these other characters who drink this potion and become duplicates of Harry, and they all go through this high-speed chase to get away from the Death Eaters. It didn't have as many chase scenes as the others, but I definitely enjoyed that one.
On a different note, what's new with you?
It looks like we are going to have our usual shows on the fourth weekend of each month.We have a new illusion that was brought from the Mainland, and we did make some changes in terms of color. It is a new illusion to Hawaii and that will be revealed in our upcoming shows. We are currently deciding to move our December shows up to the third weekend, and hope the public can come out and see our magic and new illusions.
Most Recent Comment(s):