Wednesday - July 29, 2009
By Kerry Miller

Movies Showtimes
Share

Yona Chock
The Magic Storyteller
as told to Kerry Miller
Where and with whom did you see the movie?
I saw the movie with my husband Al Keali'i. We saw it at Windward Mall.
Overall, what did you think?
I thought it was a great show, but it wasn't very magical. It was about magic, but most of what we saw was special effects. There wasn't any real hands-on magic where a magician does something that defies the laws of nature.
What did you think of the acting?
All the people have grown up in the roles, the principals, that is. I'm not sure how to say it, but Professor Snape (played by Alan Rickman) is not as evil to me as he's meant to be portrayed in the movie. I saw him in the first Harry Potter movie and he didn't project evil very well.All of the actors, they've actually grown into the characters.
Are you familiar with the Harry Potter series of movies? If so, how does this movie compare to the others and how well does it keep with where the storyline of the last movie left off, in your opinion?
I went through the book this was based on and started reading the last one to see how they're going to work it for where they are in the movie.They changed some things in the plot - some of the things that appeared in this movie are already in the next book. I'm curious to see if there's a next movie.This one is bigger and better; they're doing incredible things now with special effects that even a year ago they couldn't have done.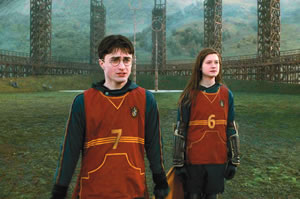 How do the Harry Potter books compare to the movies?
They always have to modify a story that's written (for the big screen). A lot of characters are left out. I will be interested to see how they handle the next movie, if they do one, if you're reading one book at a time you get confused as to where you are in the books, with the movies. I have a lot of reading to do, I'm only halfway through the last volume.
Which do you enjoy more, the Harry Potter books or the movies?
I'm a fan of both. I love to read and form my own images of things. The author does a wonderful job of giving visual descriptions. But, on the other hand, there are things they can do in Hollywood that the author does-n't know how to do that are a lot of fun.
What was one of your favorite scenes and/or characters?
I like Hagrid, the gameskeeper at Hogwarts. He's a large man, wears shaggy hair down to his shoulders and a beard. He towers over everybody else.
On a scale of one to four stars, what would you rate this movie?
I'd give it ★★★★. It's a visual candy store.There's a lot of things to look at.
Who would you recommend this movie to?
Magicians who love the story of Hogwarts, kids of all ages, and I think visual artists ought to see it just for the appearances of things.
What's new?
On the fourth Thursday of every month the Hawaii Magician's Association (part of the International Brotherhood of Magicians) teaches a magic class, free, at Kalihi-Palama Library from 6 to 6:45 p.m. This month is "Magic in Your Pockets." Next month is "How to Find Magic."Anybody can go, adults and kids. Call me at 234-5262.We do ask people to arrive promptly, because at 7 p.m. the meeting for the club starts.
Most Recent Comment(s):