Wednesday - September 28, 2011

Movies Showtimes
Share

as told to Nicole Kato
Caroline Okihara
Director, Finance & Administration Japanese Cultural Center of Hawai'i
Where and with whom did you see the movie?
I watched the movie at the Kahala Consolidated Theatre with a group of friends.
Overall, what did you think?
I thought the movie was good.
It was a poignant portrait of Japan's aging population and the social problem it presents.
On a scale of 1-4 stars, what would you rate this film?
I rate it a 3.
Without giving away the ending, what was one of your favorite scenes?
I liked the scene with a mare and her foal in the background and the main character making a family connection, like father and daughter with a person that was not related to the character.
This gives the main character hope for the future and shows the capacity of humans to love.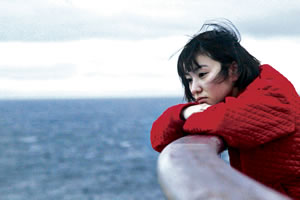 What did you think of the cinematography?
The cinematography was okay, nothing great.
Was the message/theme of the movie clear?
Yes, the theme of the movie was clear. It showed the various scenarios of how the elderly and their families are coping with the downturn economy in rural Japan.
Did any one of the actors stand out?
The main actor Nakadai Tatsuya (who plays Tadao Nakai) was superb in his role. This veteran actor does not disappoint.
His portrayal of a stubborn, self-centered yet loving grandfather was believable and compelling.
Did you identify with any of the characters?
I identified with the granddaughter Haru. I too understand the frustration of caring for a loved one.
Does the movie parallel what you know about the Japanese culture?
It does in the sense that the Japanese have traditionally respected their elders, and the oldest son or one of the children is responsible for the care of their parents.
But in modern times, the extended families have slowly disappeared, leaving aging parents on their own.
Who would you recommend this movie to?
Except for children, all adults. It is a universal theme.
What's your favorite movie snack?
Popcorn
On a different note, what's new with you?
We have been busy here at the Japanese Cultural Center of Hawaii.
We just opened reservations for our annual Shichi Go San: Keiki Kimono Dressing event on Sunday, Nov. 13, and are also getting ready to open our newest exhibition, Obama no Obama (Obama's Obama): One President, Two Countries, A Myriad of Goods, on Thursday, Nov. 10 at 5:00 pm.
For more information, call us at 945-7633 or visit our website at http://www.jcch.com.
Haru's Journey opens at Kahala 8 Theatres on Friday.
Most Recent Comment(s):