Wednesday - July 23, 2008

Movies Showtimes
Share

FRANK B. SHANER
Radio personality/entertainer
Where and with whom did you see the movie?
I went to Ward Stadium. I went with a good friend.
Overall, what did you think?
It was horrible. It was very unfortunate. There's so many subplots going on in this movie it didn't really let Hellboy raise hell.
What about the acting, did anyone stand out?
Ron Pearlman (Hellboy), he's a monster. I think he's fantastic. Even with him in costume you can see that this guy has that ability to make that character come alive.
How does this film rate compared to the first Hellboy?
The first film sucked me in, I became a fan of Hellboy. It took so long to get rolling onto this film. They give you a little background into him in his younger days; him relating to earthly things. That was pretty good, and he grew up and we kind of lost him. When he was on film he looked great, the horns that are sanded down, the cigar smoke and walk-with-the-attitude guy, (but) he wasn't on the screen long enough.
How was this film visually? Did it have good special effects?
The animation was extraordinary. It worked with the storyline at times.
What was the ratio of actual story versus special effects and fight scenes?
There are so many different twists and turns in this thing. He's fighting bad guys, basically.A lot of stuff happening in there.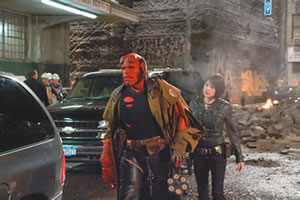 On a scale of one to four stars, what would you rate this movie?
I'd have to give it ★★.
To whom would you recommend this movie?
People from hell.
Favorite movie snack?
Popcorn.
How often do you go to the movies?
I used to go a lot more than I do today.
What's new?
I have a morning radio show on KUMU 94.7 FM. I've been involved in radio promotions. On Aug. 23 I'm hosting the Cecilio and Kapono concert along with Mandy (his radio co-host). On my off days, I'm an oil painter. I work at Egan Inoue's place. It keeps me busy.
Most Recent Comment(s):