Wednesday - November 10, 2010
By
.(JavaScript must be enabled to view this email address)

Movies Showtimes
Share

Alane Mokihana Cole
Psychic
Where and with whom did you see the movie?
I went to the Ward Theatres with my husband Adam.
Overall, what did you think?
I loved the movie. Right now it seems there is a growing movement toward spirituality, and the movie encompassed a lot of spiritual themes, including life after death.The movie related to me so much because I am a spiritual person, a sensitive. There are so many spiritual themes interwoven throughout the movie. Sometimes you see these movies dealing with spirituality and they are so over the top, but this one was more realistic. I really enjoyed it.
On a scale of one to four stars, what would you rate this film?
★★★★
Without giving away the ending, what was one of your favorite scenes?
I really appreciated the theme and manner that Matt Damon evolved into a psychic medium. He was not on Montel Williams; he did not make $1 million. He is just a normal person with a normal job and has this tremendous gift. I really connected with that part. I also like the parts when Damon's character did readings for people. The information he gave was compelling and relevant to the people who needed to hear those messages.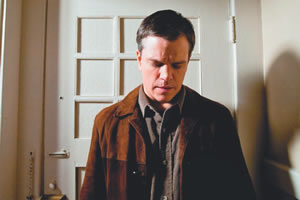 From a psychic's perspective, was the movie accurately portrayed?
I think it was very accurate. I would love to know who Clint Eastwood used in terms of psychic information and research.
Was the message/theme clear?
I think it was very clear. For anyone who has an interest in life after death or is curious about how a real psychic person lives in a day-to-day world, this is a perfect movie. If you need validation that these things do happen, that the dead can speak to us, the audience will find this movie very interesting.
To whom would you recommend this movie?
Anyone who is interested in spiritual subjects or wants to connect with those kinds of situations. It has a tremendous appeal to all genres of people.
What did you think of the cinematography?
Oh, I thought it was really wonderful. It is very easy to go over the top with these movies, with heavens shining down and angels with wings, but the way they portrayed this movie had a lot of connection to day-to-day life. I believe there is a lot of reality interspersed with the spiritual.
What did you think of the acting? Did anyone stand out?
I honestly thought Matt Damon handled his portrayal of a psychic very accurately. There is such a conflict inside as a psychic. You do want to help people, but you don't want the notoriety. Just because you have a gift, you don't want to be bothered for the rest of your life, and I thought Damon played that feeling very well.
On a different note, what's new with you?
I am finishing up some books I have been working on. I have a television series on 'Olelo channel 52. I am also trying to get together a video blog because I am planning on going to Molokai to meet my family and see my ancestors who are buried there.
Husband Adam Cole adds: Living with Alane for the past 28 years, I have always been searching and trying to find out more about being a psychic and living with one. I saw a lot of similarities between Alane and Matt Damon's character in the movie.
Most Recent Comment(s):