Wednesday - February 18, 2009
By
.(JavaScript must be enabled to view this email address)

Movies Showtimes
Share

Emme Sabio Hall
Vice President of Operations for Anteprima
as told to Kerry Miller
Where and with whom did you see the movie?
At Ward Theater. I went by myself.
Overall, what did you think?
Oh, very good, actually, especially for women. It's a chick flick.
There are a lot of big-name actors in this movie. Did you feel they pulled off good individual performances as well as as a whole?
I think all of them did, because the characters are very different; they have different personalities. Mostly it's like the stories were different individually. I think overall, all of them portrayed their own characters in a nice way.
Was there a song in the movie's sound-track that you particularly liked? Did the soundtrack contribute significantly to the movie?
Not that I really remember.
What is one of your favorite scenes or characters, and why?
I think when Ginnifer Goodwin (Gigi) actually was with Justin Long (Alex), when she was telling him about her feelings, that she's trying.To me, that was very touching.We never get to think about it, but for him, it's like he's used to having girls go after him.
When Ben Affleck (Neil) proposed to Jennifer (Aniston, who plays Beth), he did it for her because he loves her so much. For me, it was really fantastic because my husband did a lot of things for me that didn't make him happy.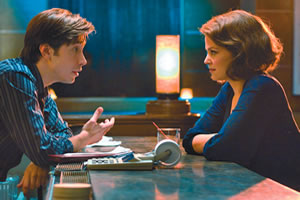 Did you identify with any of the characters?
Especially with Jennifer Connelly (Janine). She forgave her husband for cheating, but yet, with his cigarette smoking, she's furious. With me, I don't want my husband to smoke. He quit now, but he's really trying. I think, for some reason, I kind of like acted like her. I was furious about his smoking, but forgetting about the most important things my husband was doing.The part where he (Bradley Cooper's character, Ben) was smoking - when she found out, it was crazy. To me, that's kind of like how I looked at it.
Did this movie remind you of another work or film?
You know, I think it's very different. I was really into the movie.
On a scale of one to four stars, what would you rate this movie?
I would give it ★★★★.
To whom would you recommend this movie?
I think most people would enjoy it, especially teenagers and older. I would recommend watching it with someone.
What's new?
With Anteprima, I just came back from Japan.We were doing a buyers' meeting.They do presentations of the new selections, and we talk about which ones we want to carry in our store. You should visit our stores for our new selections. One is in Ala Moana, and one is in Royal Hawaiian Center. www.anteprima.com.
Most Recent Comment(s):