Wednesday - November 05, 2008
By Kerry Miller

Movies Showtimes
Share

Kyle Mccraw And Jana Souza
Actors in Army Community Theatre's production of High School Musical
as told to Kerry Miller
Where and with whom did you see the movie?
Kyle: I saw the movie at Pearlridge Mall. I saw it with Jana Souza,who is playing Gabriella.
Overall, what did you think?
Kyle: I thought it was really it surprisingly good; it was unexpected.It just really it came through for me.
Jana: I loved the movie. There were parts where I was crying because it was sad and other parts where I was laughing.
What about the acting: who were your favorite performers?
Kyle: I think Zac Efron really portrayed the senior with the decision of college and the pressures of friends. I think he did a really good job of how most seniors feel their senior year.
Jana: My favorites were definitely Gabriella and Troy. They brought that realness to the characters.
Did either of you get any insight into the characters you're playing when seeing the actors portray them in the movie?
Kyle: A lot of movies end and it's kind of fictional,happy ending,everything's fine.I liked how in the third one he (Troy) was still facing the problems he did in the first movie.Everyone was holding him to high expections of their ideal Troy. He had to face those problems; it didn't just end and they were all happily ever after.
Jana: I definitely watched her (Gabriella) and how she reacted to things so I could learn a lot for my part.She definitely taught me some things - how she reacted to things and her emotions, her way of being, who she is. In the first movie she was the new kid; she was kind of the geeky girl.She finds more and more who she is.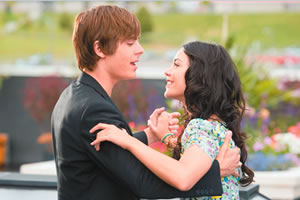 This is a musical, so how would you rate the singing and dancing?
Kyle: I think the music was somewhat modern, kind of a modern Broadway musical mix. The dancing was very hard core, not silly little dancing.
Jana: I loved all of the songs. One of my favorites was Can I Have This Dance. I was really shocked at how well they were dancing.
Which of the movie's songs were your favorites?
Kyle: I think my favorite song would be Can I Have This Dance, and that's the duet with Troy and Gabriella. I really loved I want it all and that was by Ryan and Sharpay.
Jana: I definitely loved the songs. Me and Kyle turned to each other and were like "I want to learn these songs."
As high school students yourselves, do you relate to anything the HSM characters go through in the story?
Kyle:Yes,definitely.High school is about decisions,not easy decisions,hard ones.The biggest relation would have to be decisions - junior and senior year,really,your whole life is changing completely.
Jana: I definitely related.Everyone has things they have to go through. My sister graduated a couple of years before; she had a hard time when she had to leave.
On a scale of one to four stars, what would you rate this movie?
Kyle: ★ ★ ★ ★ .
Jana: Definitely ★ ★ ★ ★ .
To whom would you recommend this movie?
Kyle: I think their core audience was most likely people who liked the first two. I would recommend it to someone who is interested in musicals.
Jana: I recommend it to kids, (and) older people can relate,too. A lot of kids at my school,they would say "I won't see it,it's for little kids," but it's not.
What's it like being in a local version of High School Musical?
Army Community Theatre opens its production of 'High School Musical'on Thursday,Nov. 20 at Richardson Theatre at Fort Shafter.Call 438-4480 for tickets and showtimes.
Kyle: In this production, we're really going into much more depth than they even did in the first one (High School Musical movie) with the characters.
Jana:We rehearse five nights a week.Every single rehearsal is so fun, the cast is working really hard. Everyone is just so wonderful.
Most Recent Comment(s):