Wednesday - September 08, 2010
By
.(JavaScript must be enabled to view this email address)

Movies Showtimes
Share

Guy Hagi
Weather and Surf Reporter, Hawaii News Now
Where and with whom did you see the movie?
I saw the movie at Kahala with my son Luke, 8.
Overall, what did you think?
To be honest, the only issue I had was that the movie was dated. It was set three years ago, which is a lifetime for the surfing community. I did love the story, the cinematography and seeing the inner workings in and around a professional surf contest.
For nonsurfers it is a very telling expose about who the guys (surfers) are and what the scene is like up there.
On a scale of one to four stars, what would you rate this film?
This movie had an interesting feel to it. It brought me back to my youth when surf films were few and far between. I would have to give it ★★1/2.
What did you think of the cinematography?
Only a surfer knows the feeling, and this movie made me excited to go surf. It really brought in the surfer's perspective, capturing those vivid moments and dramas that each surfer knows. Dana (Brown) tried to do a lot during this movie in terms of capturing all the elements, and that is definitely a tough task, but he managed it well. There are so many good surf directors now, it gives everyone a chance to see what the North Shore is all about, the heartbeat of that community.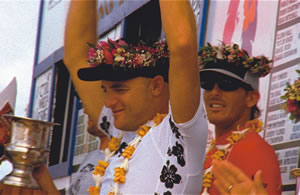 Did it remind you of any other work in film?
This film had certain elements of other films, I would say it closely resembled the old Warren Miller ski documentaries. Dana certainly follows the same line as his father, who was obviously a trailblazer for the surf documentary world.
To whom would you recommend this movie?
Oh, I would recommend this movie to all the people on the North Shore, the country. Everyone in Hawaii should see it because professional surf contests are such a vital, vibrant and often overlooked economic engine for our state. It needs more publicity and needs to be seen. Even though the players change each year, the same circus goes on and the impacts can definitely be felt in a positive light. Viewers should appreciate the spectacular world-class surf that happens in our own backyard every year.
Did anyone stand out in the film?
They really highlighted Sunny (Garcia), and I've known him since he was a kid. Even though it was not his last competition, they profiled him very appropriately. He is a very truthful guy and you can see that in the film. Seeing someone I know and to view his immense talent was a thrill.
On a different note, what's new with you?
Personally, my wife (Kim Gennaula) and I are doing the best we can to raise two kids, and that means shuffling to and from ukulele lessons, golf, soccer, surfing and everything else. Professionally, we are in the midst of hurricane season and I am preparing for another season of giant waves. I try to get out and surf as much as I can; last year was so unpredictable so I'm looking forward to a normal winter, hopefully.
Most Recent Comment(s):