Wednesday - September 20, 2006
By
.(JavaScript must be enabled to view this email address)

Movies Showtimes
Share

Hollywoodland
Jomel Sumira
Musician
As Told To Melissa Moniz
Where and with whom did you see the movie?
I watched the movie by myself at the Regal Gateway 16 Theaters in Austin, Texas.
Overall what did you think?
I'm a big fan of Smallville and the summer movie Superman Returns, and I love the action that goes on in telling Clark Kent's story as Superman.
Because I'm such a big fan of these popular Superman episodes, I didn't like how Hollywoodland took a more dark and depressing aspect of a Superman story. It was kind of confusing how it would jump from past to present throughout the movie. There were all these different stories of ways that Ben Affleck's character, George Reeves, was killed, but none of them went into complete detail or was entirely justified,which made me feel like the storyline wasn't resolved by the time it reached the end.I was disappointed because I was hoping for it to end on a happier note.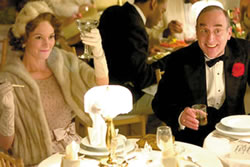 Did you have a favorite character?
Adrien Brody turned out a strong performance as Louis Simo.I enjoyed watching him more so than I did Ben Affleck, because his character wasn't as dark and depressing as George Reeves (Ben Affleck) turned out to be.
What was the best aspect about the movie?
It was pretty interesting to see what Hollywood was like back then and how some things haven't really changed today. I'm not sure I would say this is the best aspect; it was just more of an interesting aspect, I suppose. For example, it was interesting to see how the murder/suicide case of George Reeves was handled; how it was closed so quickly without really answering any questions that were brought up in the movie and even questions that people who watched it as well may have had. I just felt like there were a lot of unexplained things that left me confused.Also I didn't know that Hollywood was originally called Hollywoodland in the first place.
Is it a movie that you would see again?
Probably not. I'm more into action, musical and chick flick-types of movies.
To whom would you recommend the film?
I think that because the story took place in the '50s, it would be more appropriate for people who grew up during that time because they would understand it better and would be able to maybe relate more to it than those of my generation or younger.
What other movie would you compare this movie to?
I'm not sure ... maybe likeThe Black Dahlia in its dark retro-genre styling based on a true story.
In a four star rating, with four being the highest, what would you rate it?
Two and 1/2 stars.
What's your favorite movie snack?
Extra-buttered popcorn or nachos with jalapenos.
What's your favorite movie?
I have many favorites. A few of my favorites include Rent,The Lake House, Superman Returns,Man On Fire ... most chick-flick movies, musicals and action.
How often do you go to the movies?
Hardly ever.Maybe every two to three months, if I'm lucky.The only time I really went to the movies more than I usually do was this past summer. During the school year, it's hard for me to go and catch the new flicks because I get so caught up with school and studying.
Who's your favorite movie buddy?
I enjoy going to the movies with my friends.0r if I'm with family,I enjoy going with my cousins - it's almost always tradition to see a movie whenever we visit each other.
Who's your favorite actor/actress?
Since I'm a big fan of Smallville,I love Tom Welling and Kristin Kreuk because they play characters I really feel I can relate to.
What's new?
I'm in my second year at the University of Texas at Austin,studying biology pre-med.I'm really excited about this semester because, for one of my performance courses, I entered open auditions and won a spot with a singing group on campus called the Longhorn Singers.
We are a group that sings a variety of styles and genres from traditional Texas songs, to musicals, to popular music to all kinds of things - along with choreographed dances.In addition to that I'm in the process of composing new songs for a future second album, which I will begin recording next summer. I'm also very excited because I just found out today that my debut CD One Magic Moment can be found on my new CD Baby Website at http://cdbaby.com/cd/jomelsumira - and it will soon be available at your favorite online digital distribution store.
Next week: a new movie, a new celebrity
Most Recent Comment(s):