Wednesday - April 28, 2010
By
.(JavaScript must be enabled to view this email address)

Movies Showtimes
Share

Kinsey Texeira
Mrs. Hawaii International 2010
Where and with whom did you see the movie?
I saw it at Ward with my husband,Vance, and our children Mason, Nevaeh and Tessa.
Overall, what did you think?
I thought it was awesome. I was a little bit surprised because it wasn't as "kiddie" as I thought it'd be. It really had a grown up storyline.
On a scale of one to four stars, what would you rate this movie?
I'd give it ★★★★. I thought it was well put together with what the storyline meant, and the animation was really awesome. Each dragon was really well put together.
How was the cinematography?
Well, we saw it in 3D, and my daughter kept trying to touch the dragons. It was really awesome, and I think this movie would be good either way you see it (3D or 2D).
Was the movie as good as or better than the previews made it out to be?
I thought it was as good as (the previews), but definitely more intense than I thought it'd be. I was afraid my youngest would get scared, but she didn't. She said she was sad at some parts, though.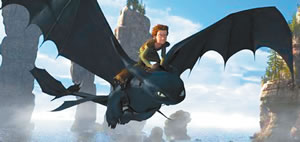 Did it remind you of any other work of film?
No. It was a pretty new story, especially between the dad Viking (Chief Stoick the Vast, voiced by Gerard Butler) and the little boy (Hiccup, voiced by Jay Baruchel).
To whom would you recommend this movie?
I'd recommend it to any age group 5 years and up, but it's good for adults as well as kids.
Do you think audiences will relate to the storyline/characters?
I definitely think it's very realistic. The little Viking, Hiccup, was rejected by his dad and didn't understand why he couldn't kill the dragons, but I think that can be translated into parent-child relationships in real life. To me, it wasn't a cartoon; it was very much a realistic movie, just animated. But you kind of forget that it's animated while you're watching it.
On a different note, what's new with you?
As you all know, last week, the pageant world lost a very special sister, Sheryl Wolfe, and though we mourn her death, we're all trying to celebrate her life as well and honor her. She made us all proud in what she accomplished in her short life, and we are praying for her family.Also, our church, Solid Rock Ministries Oahu (which meets Sundays at 10 a.m. at McKinley High School), has an outreach group called Operation Kneel that we work through to feed and clothe the homeless community every other Saturday at 5 p.m. at Kakaako Park if anyone is interested in donating or volunteering.
Most Recent Comment(s):