Wednesday - March 02, 2011
By
.(JavaScript must be enabled to view this email address)

Movies Showtimes
Share
Valentino Valdez
Principal and Co-Founder of Kukui High School
With whom did you see the movie?
I saw the movie with Katrina Valdez, English and yearbook teacher at Castle High School. Her school's year-book, the Kaulana, and Kukui High's yearbook, the Kukuilani, were fierce competitors; that is, until Freeman Hall burned down, consuming our once-proud program. Our yearbook exists online, for now, at KukuiHigh.com.
Overall, what did you think?
I thought it was OK. The orphaned alien story mixed with teenage melodrama reminded me a lot of the TV show Smallville, and the Superman story, in general (which is no surprise, since this movie is from the same creative team as Smallville). No. 4 is young Kal-el, Clark Kent, discovering his powers over time; Sam is Jimmy Olsen, nerd and trusty sidekick; No. 6 is Kara/Supergirl, the more experienced and powerful, blond cousin; and Sarah is Lois Lane (or Lana Lang), the girlfriend who struggles with his secret and strives to protect him. The rural, high school setting only reinforces the Smallville comparisons. The FX and stunts were decent, a mix of X-Men-like power signatures, and the creatures were well-done. But the Mogadorian (enemy alien) character designs were uninspired. Unusually tall, bald Goths worked for the movie Highlander, but not for this one. On the other hand, it was nice to see Lost veteran Kevin Durand (Keamy) doing some more sci-fi work!
On a scale of one to four stars, how would you rate this film?
★★. Enjoyable, but unoriginal. Actually, make it 2.015. The extra .015 is because the song Shelter from The xx (band) played during the movie. Great track!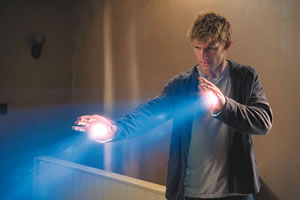 Was the message/theme of the film clear?
Yes. It's basically the Superman story retooled. Oh, and Quinn from Glee is not only a good dancer and singer but a good photographer as well.
Did you identify with any of the characters?
I guess I identified with the UFO nerd in the film, Sam. I too, was bullied in school ... and I also believe in aliens. In fact, I'm planning a trip for Kukui High seniors to the SETI (Search for Extraterrestrial Intelligence) Institute in California next semester. They'll go nuts when they read this!
Would you buy this movie when it comes out on DVD?
No. I might borrow it from the library, though, just to watch the bonus features.
On a different note, what's new with you?
Me and my Kukui High partner in crime, Ryan Ozawa, are always brainstorming for our company In Real Life LLC. I'm working with him on a new foodie blog called HawaiiGrinds.com, among other things. I also have some new Kukui High designs in the works, which will be available online soon at KukuiHigh.com. As for my day job (as the graphic designer at University of Hawaii-West Oahu), I've been busy with projects related to our new campus construction out in Kapolei, which opens its doors in the fall of 2012. Check out uhwo.hawaii.edu/newcampus for the latest updates!
Most Recent Comment(s):