Wednesday - September 23, 2009
By
.(JavaScript must be enabled to view this email address)

Movies Showtimes
Share

Ginai
Jazz Singer
Where and with whom did you see the movie?
I took my daughter and saw it at Mililani Theaters.
Overall, what did you think?
We loved it.We really didn't expect a whole lot out of another Madea movie.I mean,I knew how funny Tyler Perry was, but I was wonderfully surprised with this one.
Was there a song in the movie's sound-track that you particularly liked?
"I Can Do Bad All By Myself" is an amazing song.It's such a personal struggle for musicians, and I, too, take my music personally. The message was basically that "I am my own worst enemy."
What about the acting? Did anyone stand out?
April (Taraji P. Henson) was an outstanding character.I,like the children in the movie, also have an Aunt April,so it hit close to home for me.She was all about "What's in it for me? What can you do for me?" But the irony was that for all that she wanted and had,she didn't treat herself well,and therefore didn't treat others well.
Was the message/theme clear?
The recurring theme was about how if women are abused as young girls, they later become abusive women as adults.You just have to break the cycle. Pastor Brian (Marvin Winans) got me with his message that "You need to give it to God." Tears just welled up in my eyes. The message was right there: "You can't do this by yourself."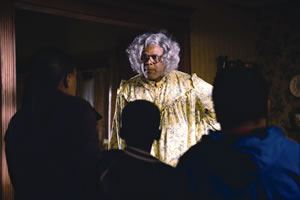 Without giving away the ending, what was one of your favorite scenes and why?
There's a scene were April figures out her boyfriend is a very bad man, and she sends him up to the bathroom to get cleaned up. You don't suspect for a minute that she knows what she's doing,but she goes up there,grabs a radio, plugs it in and threatens to toss the radio in the bath with him in order to drag information out of him. Oh boy…
On a scale of 1-4 stars, what would you rate this movie?
I give it ★★★,because they failed to build up the relationship between the abusive,self-absorbed lead singer (April) and the poor,displaced,looking-for-work Latino she falls in love with.You get to the end of the movie and BAM! They get married; we went from A to Z while missing the B to Y. I just didn't like that the two love interests April had were a good guy who was broke and a bad guy who was a rich jerk… it's a bad message. It's not always the case on either end.
Who would you recommend this movie to?
I would recommend this to all parents and all women struggling with an identity crisis. It's also a very good mother-daughter movie. I'm glad I took mine.
Was the movie worth the ticket price?
I'd say it's definitely worth the ticket price. You just have to go experience the music from that film on the big screen, surround sound and all.Those were some heart-rendering performances of musical genius.
Would you buy the DVD?
As soon as this movie comes out I'm buying several copies of it and distributing it to my family members, because I recently fostered my cousin's five children briefly, and it was because of that experience that I connected with this script so strongly.
So what's new with you?
I'm back at Twist at the Hanohano Room at the Sheraton-Waikiki Hotel on Thursdays and Sundays with the Hot Club of Hulaville. I am their featured chanteuse.Pierre Grill with Rendez-Vous Studios is also producing a Beatles record for me where I do jazz renditions of favorite Beatles songs. Look for it by the end of the year.
Most Recent Comment(s):