Wednesday - October 05, 2011
By
.(JavaScript must be enabled to view this email address)

Movies Showtimes
Share

Pam Chambers
Professional Speaker & Coach, Pam Chambers Consulting
Where and with whom did you see the movie?
I saw it at the Ward Theatres, and I invited my friend Diamond Giacomelli.
I figured he would be a good sport about seeing a "chick-flick," and he was.
Overall, what did you think?
I thought it was a rehashed, mediocre version of earlier movies about that theme.
On a scale of one to four stars, what would you rate this film?
★ 1/2.
First of all, we've already seen movies about this.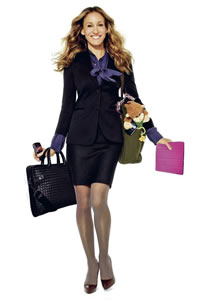 I'm wondering why we would see a movie about a hassled, overworked parent who happens to be a female, but we would never ever see a movie about an overworked and hassled male parent.
To me it's verging on sexist. Everyone's busy. I Don't Know How She Does It? Everyone does it.
Without giving away the ending, what was one of your favorite scenes?
I think the best scenes had to do with her assistant (Momo), and she's this dour, serious, unemotional, robotic, sarcastic person.
She's the best character in the whole movie.
Did it remind you of any other work in film?
There are a couple it reminded us of. You've Got Mail (1998) is definitely
one because of the whole communication via email drama.
The other one is reminded us of is Baby Boom, which came out in 1987 starring Diane Keaton, who also plays the role of a working mother.
Did you identify with any of the characters?
Not a single one.
I don't run around frantically with messy hair.
Sarah Jessica Parker had two expressions the whole time: constantly either frantically running around or whiningly apologetically.
To whom would you recommend this movie?
I would recommend it to someone who loves Sarah Jessica Parker.
However, you will be disappointed that she does not have the same great, fancy outfits that she did on Sex and the City.
What's your favorite movie snack?
I used to love Milk Duds, but now that's off my list.
My friend was disappointed that there were no Twizzlers, only Red Vines.
On a different note, what's new with you?
I am working on resurrecting the Winner's Circle Breakfast Club.
In the '80s, the WCBC was a weekly networking meeting that existed for 10 years.
Last November, after a 20-year hiatus, we re-created it. Now it's quarterly, not weekly.
It's uplifting and motivational, and it's a great networking opportunity.
We have about 100 people who come to each meeting, and all meetings are open to the public.
For more information, visit winnerscirclehawaii.com.
Most Recent Comment(s):