Wednesday - April 01, 2009
By Kerry Miller

Movies Showtimes
Share

Michael Staats
Comedian
as told to Kerry Miller
Where and with whom did you see the movie?
I went by myself at the Ward Theater.
Overall, what did you think?
I was less than thrilled. I was expecting something much funnier and much more complete as a movie. There was a lot of background and character development missing from the script.
How funny was this movie, in your opinion as a comic?
I hate to criticize comedy because it can come back to you (laughs), but I liked the two main characters, they were good together. Some of the bits were a little overused; it just wasn't as sophisticated as I would have liked.
What about the acting, did anyone stand out to you?
The two main stars, Paul Rudd and Jason Segel, you know, they were just so natural together, it made whatever scenes they were in enjoyable to watch. You can feel that they had something going.The rest, the relationship with the wife and most of the other people who were in there, they weren't developed enough, you didn't believe Rudd's character would want to marry the actress (Rashida Jones) - there was no chemistry between them at all.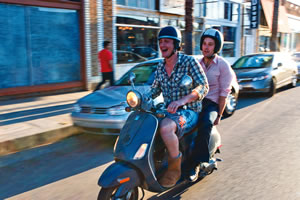 Did you believe the friendship between Paul Rudd and Jason Segel's characters?
Yeah, I did.
Did this movie remind you of any other comedies?
Off hand I can't say that it did.
Did you have a favorite character or scene?
I got a laugh out of one of the golf scenes, where they were golfing and they were going a little extra slow because one of the women didn't know how to golf. She ended up hitting him, Segel, in the leg with the golf ball. His sincerity in wanting her to stay when he got angry was very funny.
On a scale of one to four stars, what would you rate this movie?
I'd give it ★★.
To whom would you recommend this movie?
I felt it was more of a kind of an adolescent date-type of movie.There was a lot of embarrassing-type humor, that kind of thing that would appeal to second or third date people who are getting to know each other better and would make some conversation.
Favorite movie snack?
Chocolate-covered almonds.
How often do you go to the movies?
Not as often as we used to.
What's new?
Basically, just the Comedy Polynesia (Hawaii Comedy Theater show at the Sheraton Princess Kaiulani). Most of my time is spent trying to write new material. I do a lot of parodies. I'm always practicing writing and kind of rehearsing on the side.
Most Recent Comment(s):