Wednesday - January 19, 2011
By
.(JavaScript must be enabled to view this email address)

Movies Showtimes
Share

Jeff Gere
Master Storyteller
Overall, what did you think of the film?
I think it is difficult for a comedic actor to turn dramatic. I think Jim Carrey is floundering to find that combination. It wasn't a bad movie, but it also wasn't a good movie.
Was the message/theme clear to the audience?
The most valuable theme was that the movie attempted to present gay love as worthy of our attention and empathy.
Did it remind you of any other work in film?
Well, Brokeback Mountain would be another movie that was much better or more powerful at presenting gay love.
Are there any memorable scenes?
There are many outrageous scenes. Carrey is a con man who falls in love in prison. The whole movie is a series of him going one up on the establishment, manipulating situations so he can get what he wants, which is Phillip Morris, the innocent fellow he loves. How he does that is true, based on the biography of Carrey's character, who was a con man himself. It is pretty extreme, the things he does to circumvent the effects of the law.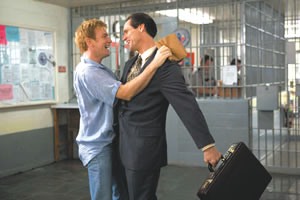 What type of audience would enjoy this movie?
People who go to see Jim Carrey be really silly and over the top with his humor will be disappointed. This is him trying to expand those chops into the dramatic, and I don't think it works very well. His role was so superfluous, superficial, just surface. Carrey makes such great faces, but when he tries to get sincere you're not sure - and he is playing a con man anyway - is he conning the audience?
On a scale of one to four stars, how would you rate the film?
★ 1/2. It is a good movie when you have nothing else to do and it is on DVD.
How about the acting? Did anyone stand out?
I couldn't help but look at Ewan McGregor, who plays Phillip Morris, and say to myself, 'Isn't that the guy from Moulin Rouge who was singing all those songs?' To see him in a light-blue jump-suit as a prisoner with coiffed hair, looking so composed and cherubic, was entertaining. But it is basically Jim Carrey throughout.
On a different note, what is new with you?
I am a storyteller, and last week we hosted the first SLAM Poetry, and we are going to be hosting another one highlighted around short, personal stories Jan. 23 and Feb. 6 at 7 p.m. at ONG King Art Center in Chinatown.
Most Recent Comment(s):