Wednesday - July 15, 2009

Movies Showtimes
Share

Lori-Ann Navares
Mrs. Hawaii USA 2009
as told to Melissa Moniz
Where and with whom did you see the movie?
I saw the movie at Regal Cinemas at Windward Mall with my husband and my three girls, ages 7, 3 and 2.
Overall, what did you think?
I really enjoyed it. It had a lot of adult humor but it was also very sweet.Some parts were even scary, though. My younger one got a little scared, so I would-n't recommend it for younger children.
Did you see the first two Ice Age movies?
Actually, I didn't. But after the movie, it was on TV, and so we did watch the first and the second movies.And then it all made sense to us.
Besides the movie being a little scary, did your children enjoy the movie?
Very much so.
Who was your favorite character?
I really like Ellie (female mammoth) because I see a lot of myself in her character.We have a lot of the same characteristics.
Without giving away the ending, what is one of your favorite scenes and why?
When Peaches was born and Ellie and Manny's friends get to meet her for the first time.
What was the funniest scene?
There were a lot of funny scenes,but I think the funniest scenes were the scenes with Scrat and the nut. It always seems that he's torn between the nut and finding love. It's really funny when they are fighting for the nut.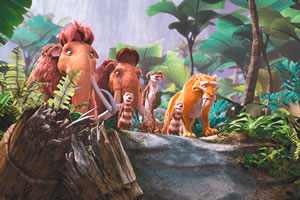 On a scale of one to four stars, what would you rate this movie?
I would rate it ★★★ 1/2.
Would you recommend this movie to other parents?
Yes, definitely. I do think if their children are maybe 3 years old and up, because my 2-year-old daughter was very antsy during the movie.
The movie is rated PG. Was everything appropriate for children?
Actually, this is one of the movies that I've seen where the humor was very kid-friendly. It was funny and cute, and they used a lot of puns from other cartoons. I just really enjoyed it.
Favorite movie snack?
It would have to be popcorn and mochi crunch.
What's new?
Right now I'm just preparing to go to nationals. I'll be flying out on July 18 for the Mrs. United States pageant,so right now my life has been a bit chaotic. I'm just preparing and we have a fundraiser coming up.
What are you doing to prepare? Is it different compared to what you did to prepare for the stage pageant?
I think it's very similar, but I think right now I'm more physically preparing because there will be other former Miss USA contestants who are now married. So it's really about physically and mentally preparing. I'm also working with my platform about spreading diabetes awareness. Really, my main goal is to put out diabetes awareness at the national level. There's really a lot that goes into preparing.
Most Recent Comment(s):