Wednesday - June 24, 2009
By Kerry Miller

Movies Showtimes
Share

Nancy Ali
Manager, Windward Community College Imaginarium
Where and with whom did you see the movie?
I saw it at Ward Center, I went with my husband.
Overall, what did you think?
It's hard for me to tell,I'm not used to going to children's movies because I don't have kids. I'm not sure if I wasn't enjoying it so much because it's more geared toward children or if it's because of the movie. The premise of it was interesting,using your imagination to solve problems.There was a part in the movie where the father (Evan Danielson, played by Eddie Murphy) and daughter (Olivia, played by Yari Shahadi) are entering into her imaginary world, you expect when they open their eyes there's going to be computer-generated graphics, and there's not. I thought that was good - that's how kids use their imagination, it goes on inside their heads, not that you see it in the outside world.
What did you think of Eddie Murphy in this role?
He plays an investment banker, and I think he did a pretty good job. He's got great facial expressions. Some of the funny parts were because of his facial expressions.
Were there any cool special effects?
It's not a special effects movie.In one scene they're moving around the kitchen and you just see them moving around the kitchen.The way it's presented is good. It also allows the audience to use their imagination to see, to imagine this world,to see how there's a change happening.
Did you have a favorite scene or character?
The little girl (Shahadi) did a really good job. Some of the looks she gives her father were really good. I thought she was an excellent actress for being so young.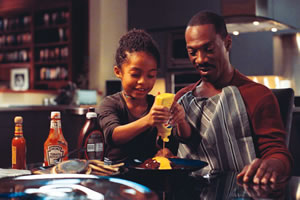 Tell me about the storyline. Was it just plain funny or did it have any kind of message for the audience?
I think probably, if there was a message, it would be more for the adults to kind of connect with your inner child and to use your imagination.
On a scale of one to four stars, what would you rate this movie?
★★ .
Who would you recommend this movie to?
It would be good for parents to go with pre-adolescent kids.There's quite a bit in the movie about business, and for young kids a lot of that would be over their heads, but for pre-teens, if they didn't understand they could ask their parents about it and get the gist of it.
What's new?
We just had the Magic Planet installed in the Lanihuli Observatory, it's right by the Imaginarium. We open the observatory after the Friday night Imaginarium shows. The Magic Planet is basically a spherical computer screen where you can project all sorts of global images - you can do animations where you take all of the water out of the Earth and see what the ocean floor looks like without any water in it, or go to Mars and look at the surface of Mars. 2009 is the International Year of Astronomy, we've been having special events throughout the year. We've had increased attendance because of that,and our whole mission is to educate people on outer space and astronomy. Our web-site is www.aerospace.wcc.edu/imaginarium.
Most Recent Comment(s):