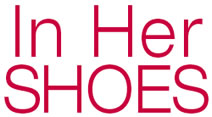 Wednesday - October 17, 2005
By
.(JavaScript must be enabled to view this email address)

Movies Showtimes
Share

In Her Shoes
Lisa Kubota
KGMB-TV Reporter
As Told To Katie Young
Where and with whom did you see the movie?
I saw it at Dole Cannery Theatres with my dear friend Judith, who has lots of cute shoes.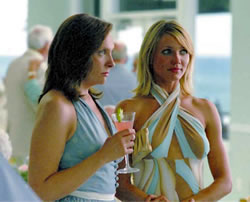 Overall what did you think?
I really enjoyed it. I thought it was going to be more of a fluffy, feel-good film, but there was also some depth to it. I'm an only child, so I've never had to deal with that sibling rivalry, so it was interesting to see the complexity of the sisters' relationship.
What was your favorite scene?
When the freeloading sister, Maggie, finally gets a job at a dog grooming salon. Of course, she has no idea what she's doing so chaos ensues and you have to laugh at the absurdity of it all.
Did you have a favorite character?
I liked the uptight plain Jane sister named Rose. She's tired of taking care of her wild child sibling and bailing her out of trouble. She has this killer collection of shoes. She explains that when she's feeling down, she buys shoes because clothes don't look good on her and eating makes her fat, but the cute shoes can make anyone feel fabulous.
How would you rate the acting?
It was pretty good.The story sort of revolves around the turbulent relationship between two very different sisters, and through the course of the film you can see how each one ended up so screwed up.
Did the movie have a meaning?
It sort of emphasized the importance of forgiveness and learning to love yourself and other people despite their many flaws.
What was the best/worst aspect about the movie?
I liked the fact that they had different generations of characters.The sisters come to know this grandmother that they thought was dead, and there are some other characters at the nursing home that share their wisdom as well. I thought they added a lot to the film.
Is it a movie that you would see again?
Yeah, I would. I don't normally watch movies more than once, but it was light-hearted and fun so I'd watch it again.
To whom would you recommend the film?
It may seem like a chick flick, but I think there is a wider audience for it because the film not only looks at the relationships between siblings, but also parent/child relationships and romantic entanglements. It appeals to all kinds of people - and to shoe fanatics, of course.
On a four star rating, with four being the highest what would you rate the movie?
3 stars
What's your favorite movie snack?
I like hot dogs with a Coke Icee - or sometimes I'll eat popcorn with arare. If I really want to indulge, I get those ice cream Bon Bons.
What's your favorite movie?
I'd have to say it's a toss up between The Last Samurai and Bridges of Madison County. Both are poignant and deeply emotional films.
How often do you go to the movies?
Probably about once a month. But I go more often if there are films coming out I really want to see.
Who's your favorite movie buddy?
It depends on what the film is. You want to go with someone who enjoys the film and has as much of an interest in it as you do.
What genre of movies do you like?
Usually I like light-hearted movies like comedies because I get enough violence and drama through the stories I have to cover for work.
Who's your favorite actor/actress?
I like Tom Hanks because he's not your typical drop dead gorgeous movie star. I think there's something really solid about his performances.And I like the outtakes at the end of Jackie Chan's movies.
What's new?
I've been at KGMB a little over a year now, and I was at KHNL for four-and-a-half years before that. Right now I'm busy rehearsing for the Society of Professional Journalists' Gridiron Show. It's Oct. 21 and 22 at Diamond Head Theatre.There's some singing, some dancing and some crazy characters. It's fun to work with these people in a non-work environment and see how witty and zany they are. Come check it out! (Tickets are available at www. honoluluboxoffice.com)
Next week: a new movie, a new celebrity
Most Recent Comment(s):