Wednesday - July 28, 2010
By
.(JavaScript must be enabled to view this email address)

Movies Showtimes
Share

Devon Nekoba
KUMU 94.7 FM midday radio personality
Where and with whom did you see Inception?
I went to Ward Theatres' Titan XC - you know, where the big sound makes your hair dry - with my beautiful wife.
Overall, what did you think?
(Director) Christopher Nolan is known for these complex types of films, and it's one of those that's real difficult to tell people about without giving too much away. The ending may not be what people expect, but it's definitely one of those movies that leaves you talking about it hours after you've seen it. It was well-paced and there wasn't a moment where I was looking at my watch wondering when it'd be over.
On a scale of 1-4 stars, what would you rate Inception?
I think I'd give it ★★★. I'm one of those that doesn't like giving fours, because that makes it seem like it's perfect, but three almost shortchanges it, too. Personally, I think the best review you can give a movie is to say that "I went for free, but I'd pay to see it." That's how I feel, hands-down.
How was the acting? Did anyone stand out?
I don't think there's a bad performance in the movie at all; they were all really, really good. The gentleman who plays the forger, Eames (Tom Hardy), is great because he gets to do comedy, and that draws laughs. He really helps break it up, because otherwise it's just one big "Oh my God!" type of film.
What about the cinematography?
Everything now has been shoved into 3D, but I think there's something to be said for good ole' 2D. Plus, it was amazing to see the film on the wall-to-wall screen of the Titan XC, so that really added to the overall feel.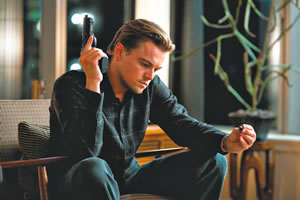 Without giving away the ending, what was one of your favorite scenes?
I think when they're in the dream state and Arthur (Joseph Gordon-Levitt) is doing a fight scene in mid-air was fantastic. They're tumbling around and gravity is not quite there, but then it is again, and then, wait, it's gone ... that stuff was amazing. There's a lot of "What the ...? How'd they ...? Huh?" type moments.
Did this movie remind you of any other work in film?
The good thing about this movie is that they at least explain the parameters of how the people are living, unlike The Matrix. That's the closest I can compare it, though. It's really on its own level.
Was the storyline easy to follow?
There are definitely parts that'll leave you wondering after the film, but like I said before, it provides for a lot of good, fun discussions. Basically, Leonardo DiCaprio plays the leader for this team that goes into people's dreams and steals secrets and ideas from them, but later on they're hired to actually go in and plant something into a dream. It's a really interesting basis for a movie, and the dream state stuff is just ... well, if you think about it too long your head's going to explode (laughs).
To whom would you recommend this movie?
I think it'd actually be OK for anyone that doesn't mind a little bit of thinking with their movies. If you're a pure popcorn-and-things-getting-blown-up type of moviegoer, this one is going to challenge you. It's a good couple movie, too, just for discussion purposes. Basically, I'm just telling people if you want to see a good movie that makes you think and has you talking afterwards, this is the movie to go see.
On a different note, what's new with you?
Well, I'm a midday radio personality on KUMU 94.7 FM, Hawaii's Old School Station, so listen out for me spinning all kinds of great tunes every day from 10 a.m. to 3 p.m. I'm also on the board for Ohia Productions, and we're celebrating our 15th anniversary with two performances of several past productions at 2 and 7 p.m. Aug. 28 at Hawaii Theatre. It'll be the last chance for folks to see any of these shows, so we want people to call the box office (528-0506) or visit hawaiitheatre.com to get their tickets as soon as they can!
Most Recent Comment(s):